Bank of Nova Scotia, commonly known as Scotiabank, posted a 14% lower fourth quarter profit, caused by workforce reduction costs and branch closures. Net income (profit) was $1.438 billion in Q4, compared to $1.676 billion in Q4 last year.
Diluted EPS (earnings per share) were $1.32 in the fourth quarter, compared to $1.29 in Q4 2013.
Canada's third largest bank by deposits and market capitalization joins three other major banks in the country reporting lower-than-expected earnings for the season.
Scotiabank had warned in November that its results would be lower because of international branch closures and charges for job cuts.
For the full year, the company posted a net income of $7.298 billion compared to $6.610 billion in 2013. After adjusting for notable items, net income came in at $7.008 billion versus $6.520 billion last year.
Full-year diluted EPS were $5.66 versus $5.11 in 2013.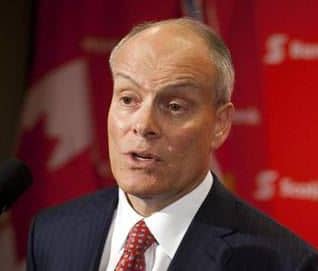 Mr. Porter said 2014 has been another good year.
Scotiabank President and CEO, Brian Porter, said:
"It was another good year with net income of $7.3 billion. Over the last year we've taken some important steps to become an even better bank. We are focused on providing an improved banking experience for our customers while reducing structural costs, in part by simplifying our operating model."
"Canadian Banking reported fourth quarter net income of $483 million. Excluding certain notable items, Canadian Banking generated solid earnings of $556 million, mainly driven by good top-line revenue growth. We saw good growth in retail lending volumes, strong growth in fee and commission revenues and improved mortgage spreads which were partly offset by an increase in provision for credit losses and expenses."
Mr. Porter said he expected earnings growth to moderate slightly in 2015, due to a continued low rate environment and ongoing technology investments.
The headwinds that have affected business over the last few quarters are likely to continue into the first half of next year, he added. Scotiabank expects growth to pick up during the second half of 2015.