The amount Canadians spent cross-border shopping in the United States increased by 72% from 2006 to 2012 from $4.7 billion to $8billion, Statistics Canada informed on Wednesday.
From 2006 to 2012, the amount Canadians spent shopping in the US increased every year except for 2009.
Even with these increases, however, Americans shopping in Canada represented between 1% and 2% of Canada's total retail sales.
Statistics Canada points out that it is not easy to estimate the exact economic impact of cross-border shopping. There are several studies out there using a range of methodologies.
For its latest report, Statistics Canada says it used a range of survey and administrative data sources.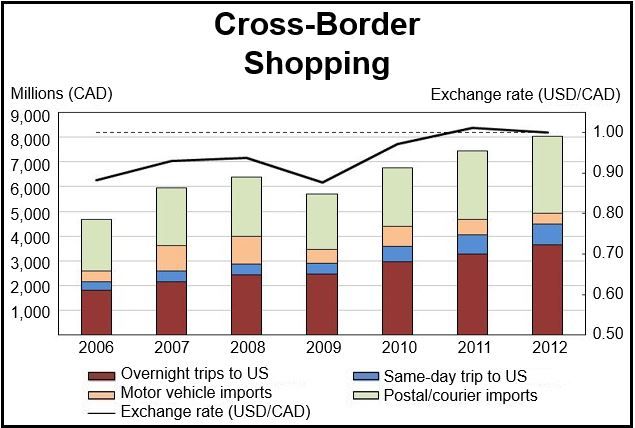 Total retail trade sales in Canada also rose annually from 2006 to 2012, with the exception of 2009 (-2.9% fall). Even including that one-year fall, annual sales increased from $389 billion in 2006 to $468 billion in 2012. "Comparing the two figures, cross-border shopping by Canadians in the United States accounted for 1.7% of total Canadian retail sales in 2012," Statistics Canada wrote.
The study authors examined three different spending scenarios – low, medium (cited above) and high expenditures.
In these three scenarios, total annual cross-border shopping ranged from $5.9bn to $10.8bn in 2012, or from 1.3% to 2.3% of total retail sales.
Many Canadians shop in the US
Approximately seventy-five percent of Canadian citizens live within 100 miles (160 kms) of the US-Canada border. Therefore, a significant proportion of Canadian consumers use US shops as an option when out purchasing goods. This is especially true for those living very close to the border who are seeking products that are historically cheaper in the US, such as groceries and gasoline.
Estimates for cross-border shopping take into account four elements: same-day shopping trips; overnight-stay shopping trips; goods imported by post or courier; and imports of motor vehicles.
With the exception of 2009, same-day and overnight trips have risen steadily since 2006. Canadians made nearly 56 million visits to the US in 2012, thirty-eight percent more than in 2006.
All categories except for motor vehicle exports have increased significantly in their share of cross-border shopping.
In 2006, Canadians on same-day trips brought back $370 million's worth of goods in 2006, compared to $844 million in 2012. The amount brought back in overnight trips jumped from $1.8 billion in 2006 to $3.6 billion in 2012.
The value of goods imported by post or courier into Canada from abroad rose by 50% over the six-year period ending in 2012 to $3.1 billion.
The total value of imported vehicles rose and fell right back during the six-year period. Motor vehicle imports worth $426 million were registered in 2006. This more than doubled to $1 billion in 2007 and 2008. By 2012, the figure had returned to nearly the same amount as in 2006.
"Estimates of Cross-border Shopping, 2006 to 2012," by Patrizia Corbi, National Economic Accounts Division.