The Canadian housing market is showing worrying signs of overvaluation, the International Monetary Fund warned on Tuesday, adding that the evidence is starker in the more expensive properties.
According to the IMF:
"Housing has regained momentum, but with important differences across regions and markets. House prices have reaccelerated, mainly driven by brisk activity in major metropolitan areas – notably, Toronto, Vancouver, and Calgary."
While praising the Canadian economy, the IMF warns that even though the expected growth in exports has arrived, the country needs to shift its focus away from household consumption and residential investment.
The IMF forecasts GDP (gross domestic product) growth of 2.25% in 2014. Economic slack has been on a gradual decline with growth running slightly above potential in most quarters since 2013.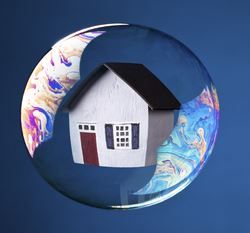 Have record-low interest rates fueled a Canadian housing bubble? Opinions are divided.
The authors of the Report – "Canada: Concluding Statement of the 2014 Article IV Mission" – foresee growing demand coming from the US, which should help push up and broaden Canada's economic recovery. More than three-quarters of the country's exports go to the United States.
Bubble or soft landing?
Record-low interest rates have boosted demand for homes. Canadian policy makers have been trying to get exports and business investment to be the drivers of GDP growth.
Canadian economists fail to agree about the state of the housing market. Some believe that it is over-extended and there is a risk of a bubble, while others insist that government measures to rein in the market by imposing more stringent mortgage-insurance rules will help bring about a gentle landing.
The IMF said:
"Although key domestic vulnerabilities in the housing market and the household sector can interact with adverse external shocks to harm growth, risks appear contained from a financial stability perspective."
According to the IMF Report, population growth has pushed up demand, which is has not been matched by adequate supply, especially the building of single-family homes.
The number of uninsured mortgages with low loan-to-value ratios is increasing by 10% annually.
The IMF wrote:
"Tighter mortgage insurance rules, reduced affordability, and new construction of multi-family units appear to have contained price growth in other market segments."
The Report says Canada has benefited from the growth in oil sands production despite intensified challenges to competitiveness in non-energy sectors. Oil-rich provinces are likely to see lower activity while those reliant on manufacturing and services will experience growth, due to the decline in the price of oil.