Canadian manufacturing output reached an 11-month high in October, after falling slightly in September. The RBC Canadian Manufacturing Purchasing Managers' index (PMI) increased to a seasonally adjusted 55.3 in October from September's 53.5.
New export orders, however, only improved slightly in October.
A PMI reading above 50 means the sector is growing, while one below fifty suggests a contraction.
October's reading was the highest since November last year, while the forward-looking new orders index jumped to 56.4 compared to September's 53.7.
RBC Senior Vice-President and Chief Economist, Craig Wright, said:
"We saw a strong uptick in Canada's manufacturing business conditions in October driven by new order growth. Despite the challenges we are seeing in the European and emerging markets, the continued recovery of the U.S. economy should continue to support Canadian exports going forward."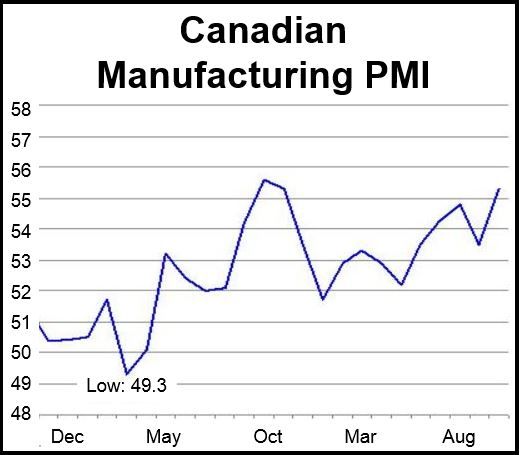 (Source: RBC Canadian Manufacturing PMI)
RBC quoted anecdotal evidence suggesting that stronger sales volumes were linked to new product launches, effective marketing initiatives, and competitive pricing.
The pace of new employment creation eased marginally in October, but was still close to the 11-month high posted in August. Backlogs of work were accumulated for the ninth successive month and at the fastest pace since July.
Even though domestic demand was strong and the Canadian dollar declined, purchase price inflation saw a further moderation. The latest increase in average cost burdens was the weakest so far this year.
Consequently, factory gate price inflation was 'softer' in October. RBS has reported slower increases in manufacturing output charges for five months running, driven by greater competition for new work and lower underlying cost pressures.
Cheryl Paradowski, President and CEO of the Supply Chain Management Association (SCMA), said:
"Canada's manufacturing sector looks to have regained momentum at the start of the fourth quarter. Business conditions improved at the fastest pace for almost a year, highlighting that the sector is showing resilience in the face of subdued demand across the euro area and emerging markets. Solid job creation was maintained during October, but supply-chain pressures remain a concern as the latest survey indicated a steep and accelerated deterioration in suppliers' delivery times."
The monthly survey is carried out in association with Markit and the SCMA.