Caterpillar pleased investors after posting a third quarter net profit of $1.1 billion ($1.63 per share) compared to $946 million ($1.45 per share) in Q3 2013. The Peoria, Illinois-based multinational giant boosted its profit outlook for 2014, citing significantly growing demand in North America for its products.
The company now expects to earn $6.50 per share in 2014 (excl. restructuring costs), compared to its previous $5.85 estimate.
Sales and revenue from financial services increased by 1% to $13.54 billion in the quarter. For the whole of 2014, it expects sales and revenue to come in at about $55 billion.
The world's biggest manufacturer of mining and construction equipment, industrial gas turbines, diesel-electric locomotives, and diesel and natural gas engines said strong earnings came on expanding demand from the oil & gas and construction industries in the US, Canada and Mexico, which more than offset worldwide declines in its mining industry.
Looking ahead to next year, Caterpillar believes there is a reasonable likelihood that global economic growth may improve. It also warned that there are several significant risks, including tensions in the Middle East and Eastern Europe, rising interest rates in many countries, and weakening growth in China, which could undermine business confidence and sap sales.
(Source: Caterpillar Inc.)
Consequently, the company believes revenue will be virtually unchanged in 2015.
Sales in North America increased by 15%, due mainly to strong demand in the construction and energy sectors.
Sales fell by 21% and 7% in Latin America and the Asia/Pacific region respectively. In Africa, the Middle East, China and Europe sales remained virtually unchanged.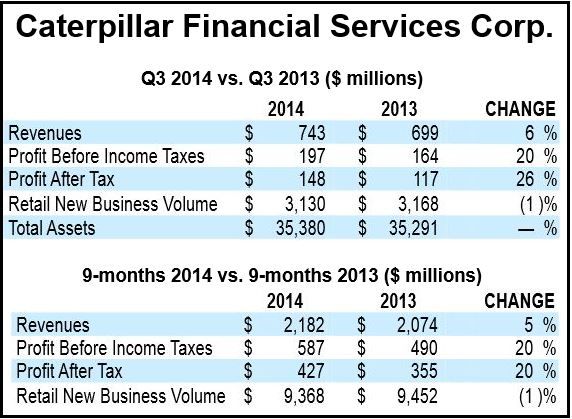 (Source: Caterpillar Financial Services Corp.)
Caterpillar Chairman and Chief Executive Officer, Doug Oberhelman, said:
"We're pleased with the third-quarter profit improvement considering world economic growth remains slower than we'd like. We've continued to focus on what we can control – cost management and operational execution. We continue on a Lean manufacturing journey and are focused on improving safety, quality, efficiency and inventory turns."
"We're making progress and it is beginning to be reflected in our results. The diversity of the businesses we're in and the strengthening of our operational performance have been key to helping us improve results and our competitive position in this weak economic recovery. Our broad geographic reach and manufacturing footprint help mitigate the impact of currency fluctuations. In fact, currency impacts were positive in the third quarter."
Mr. Oberhelman added that the company has a strong balance sheet and cash flow. So far in 2014, Caterpillar has repurchased $4.2 billion of Caterpillar stock and has raised its quarterly dividend by 17%.
"We are confident that, when we see more significant economic growth around the world, our consistent focus on operational performance will have prepared us to deliver even better results," Mr. Oberhelman said.