Nokia Oyj posted a third quarter net profit of €747 million compared to a €91 million loss in Q3 2013, beating all analysts' expectations. Since selling off its mobile phone unit to Microsoft, leaving it as just a network equipment and software company, its fortunes have improved.
Since Microsoft announced that it would purchase its mobile phone business in 2013 for $7.2 billion, Nokia's share price has increased by 140%.
Nokia's margins in its core network business during the quarter were 13.5%, well above the 9.9% most analysts had estimated. The company has been making gains in the Chinese and US markets.
Nokia is the third largest global network-equipment company globally, after Sweden's Ericsson and China's Huawei. The Finnish company expects the network division's full-year margin to be marginally above 11%.
President and CEO Rajeev Suri has carried out a comprehensive savings program that has allowed the business to develop more successfully than its rivals.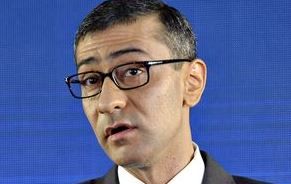 Rajeev Suri has been President and CEO of Nokia since May 1, 2014.
Mr. Suri said regarding the third quarter results:
"Nokia's third quarter results demonstrate our strong position in a world where technology is undergoing significant change. We saw growth in all three of our businesses; non-IFRS earnings per share was up 50%; and we moved forward with our capital structure optimization program, returning cash to shareholders."
"Performance at Nokia Networks was particularly satisfying, with both growth and improved profitability. Progress was widespread, with four of our six regions increasing sales; Mobile Broadband sales and profitability were up sharply; Global Services delivered its sixth consecutive quarter of double digit profitability; and I was pleased to see a rebound in Europe driven by our robust deal momentum. That said, I also want to be clear that Networks benefited from some unique developments in the quarter, with a business mix weighted towards Mobile Broadband and regional mix that included strong gains in North America."
On Thursday, Nokia announced it had written down €1.2 billion of goodwill from HERE, its navigation technology subsidiary. However, its outlook for the business remains positive.
Microsoft dropping Nokia brand name
Less than one year after acquiring its mobile devices division, Microsoft says it plans to drop the Nokia brand name from new smartphones.
The new Nokia Lumia mobile phone will be called Microsoft Lumia. Parts of Nokia that Microsoft did not acquire will continue using the brand name.