Celgene Corporation is a US biotechnology company that focuses on developing, manufacturing, and marketing drug therapies for the treatment of cancer and immune-inflammatory related diseases. It is based in Summit, New Jersey.
Celgene is publicly listed on the NASDAQ Stock Exchange under the stock ticker symbol 'CELG'.
The company's portfolio of commercial products include: VIDAZA®, REVLIMID®, THALOMID®, ABRAXANE®, ISTODAX®, and POMALYST®/IMNOVID®.
Celgene's vision is "to build a major global biopharmaceutical corporation while focusing on the discovery, the development, and the commercialization of products for the treatment of cancer and other severe, immune, inflammatory conditions."
Celgene Corporation was incorporated in the State of Delaware in 1986. It was originally a unit of the Celanese Corporation but was spun off as an independent company after the merger of American Hoechst Corporation with Celanese Corporation.
It has a global team of 5,100 full-time employees, operations in over 50 countries and sales in over 70 countries and regions (across Europe, North America, Latin America, Middle East, and Asia/Pacific).
Overview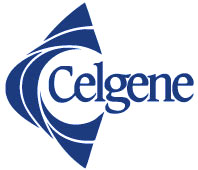 CEO: Robert J Hugin
Chairman: Sol J. Barer
Industry: Biotechnology
Type: Public
Listed on the NASDAQ Stock Exchange
NASDAQ stock symbol: CELG
S&P 500 Component
Revenue: $6.493 billion USD (2013)
Net income: $1.449 billion USD (2013)
Diluted earnings per share: $3.37 USD (2013)
Company head office: 86 Morris Avenue, Summit, NJ 07901, USA
International headquarters: Route de Perreux 1 Boudry, CH-2017, Switzerland
Corporate contact number: +1-908-673-9000
Investor relations email: 

[email protected]

Website: http://www.celgene.com/
---
Income data (in $ millions)

2013

2012

Net product sales
$6,362.3
$5,385.6
Collaborative agreements and other revenue
$14.7
$10.7
Royalty revenue
$116.9
$110.4
Total revenue
$6,493.9
$5,506.7
Research and development
$2,226.2
$1,724.2
Total costs and expenses
$4,685.0
$3,760.3
Operating income
$1,808.9
$1,746.4
Income before income taxes
$1,665.4
$1,681.5
Income tax provision
$215.5
$225.3
Net income
$1,449.9
$1,456.2
Balance sheet data (in $ millions)
Total assets
$13,378.2
$11,734.3
Total liabilities
$7,788.3
$6,039.8
Total stockholders' equity
$5,589.9
$5,694.5
Common share data (in $)
Earnings per Common Share – Basic
$3.50
$3.38
Earnings per Common Share – Diluted
$3.37
$3.30
Source: "Celgene Corporation 2013 Annual Report" 
---