A Lafarge Holcim merger would create by far the world's largest cement company, valued at over €30 billion ($41 billion). The two companies, Lafarge of France and Holcim of Switzerland are in advanced merger talks.
Lafarge SA, based in Paris, France, is a multinational industrial company specializing in concrete, gypsum, construction aggregates and cement. Lafarge has 65,000 employees worldwide.
The Holcim Group Ltd, based in Jona, Switzerland, is a multinational building material and aggregates company employing 71,000 workers. It also supplies ready-mix concrete and asphalt as well as associated constructions services.
Four companies control most of the world's cement market:
HeidelbergCement (Germany)
Holcim was the largest cement maker in terms of revenue in 2013 ($22 billion sales), Lafarge was the second biggest ($20.82 billion), followed by Heidelberg ($18 billion), and Cemex ($15.2 billion).
Lafarge Holcim merger may face antitrust inquiries
Before the merger goes ahead it will likely face a prolonged competition inquiry from regulators because the new company might be deemed as too dominant in the US and Europe.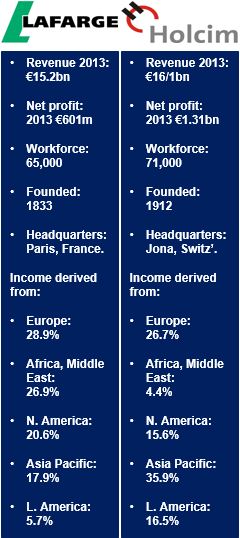 In an online press release, Holcim and Lafarge wrote:
"Lafarge and Holcim believe that, given the strong complementarity of their portfolio and the cultural proximity between the two companies, there is rationale in considering a potential merger that could deliver significant benefits to customers, employees and shareholders."
"The discussions are based on principles consistent with a merger of equals which build on the strengths and identities of the two companies."
"No agreement has yet been reached and no assurance can be given that these discussions will lead to a definitive agreement. Lafarge will inform the public of any material developments in this respect."
Merger makes economic sense, companies say
According to Holcim, a merger between the two companies would help reduce costs, lower debt, and address the sector's worldwide overcapacity.
The two companies would also benefit from certain geographic advantages if they get together. While Lafarge is strong in the Middle East and Africa, Holcim is not, but Holcim has a strong presence in Latin America, unlike Lafarge.
Despite some obstacles, the two companies are likely to push ahead with the merger with all their might, given their need to reduce overcapacity amid declining construction activity in Asia, parts of the Middle East and the European Union's slow recovery from its debt crisis.
Holcim and Lafarge are both well established 100+ year-old European companies that today derive over 50% of their income from outside Europe and North America.
Written by [google_authorship]