Working with a charity may seem outlandish for several brands. After all, brands concentrate their efforts on increasing margins, attracting talent, and building their business. When profits are precious, every avenue explored to secure free funding, and revenue growth is crucial, it seems counterintuitive for a brand to partner with a charity.
But in addition to endorsing something that you and your clients believe in, many small businesses find that partnering with a charity increases marketing possibilities, lets the company interact more with clients, and provides substantial networking opportunities.
From building brand awareness to targeting a new niche of customers, below are three examples of charity and brand partnerships that just work.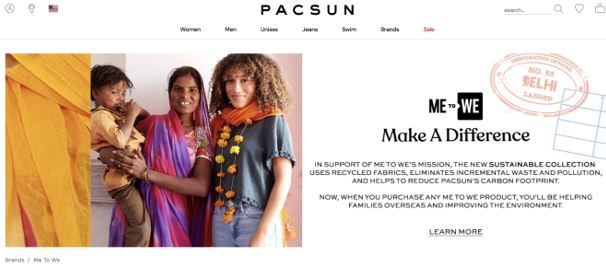 Pacsun and Me to We
Pacific Sunwear of California (Pacsun), LLC is a retail apparel brand based in the United States rooted in California's youth-focused culture and lifestyle. Along with clothing and accessories built for teenagers and young adults, the company offers lifestyle apparel.
Pacsun recently took a trip to India with @mylifeaseva and @babynezza to see first-hand the impacts made by their collaboration with ME to WE in Rajasthan. Me to We takes a holistic and developmental approach to help break the poverty cycle in India.
The latest sustainable range uses recycled fabrics, reduces incremental waste and pollution, and helps to reduce Pacsun's carbon footprint in support of ME to WE's mission. Now, when you buy any product from ME to WE, you will help families overseas and improve the environment.
People can browse through the partnership by Pacsun with ME to WE, where every purchased choker tee, bracelet, or knit top helps improve a child or family's life in developing countries overseas. Specifically, each product's sales go to five impact areas: education, healthcare, food, financial instruments, and clean water.
To date, the collaboration has already led to the jobs of 1,700 people, delivered 7 million gallons of water, and had an effect of 1.4 million, including the provision of education and medical services.
Some products in the store come with a unique code that enables people to track their impacts, watching ME to WE deliver crucial resources to communities across the globe to break the cycle of poverty and create meaningful, positive change.
Cottages.com, Hoseasons & Dogs Trust
The funds were raised by bookings made at dogstrustholidays.co.uk through contributions from holidaymakers around the country. The charity was earning a donation equal to 10 percent of the value of each booking for accommodation.
Delivered in collaboration with cottages.com and Hoseasons, more than 48,000 properties including cottages, lodges, and boats are available to choose from at dogstrustholidays.co.uk, including options to accommodate pet owners and those traveling without pets alike.
For the past 15 years, the relationship has been nurtured to support the continuing treatment of the thousands of dogs in the charity's rehoming centers nationwide.
Adrian Burder, CEO of Dogs Trust, said: "We have worked with cottages.com and Hoseasons for over 15 years through Dogs Trust Holidays because we agree that holidays are for the entire family, even those of the four-legged variety.
The vital funds raised from customer bookings help us keep our tails wagging at our 21 Rehoming Centers across the UK and Ireland. On their behalf, we would like to say a massive thank you to everyone who has helped us achieve an unprecedented number."
At cottages.com and Hoseasons, Sally Henry said: "We are pleased to be partnering with Dogs Trust to help connect members of the public who would like to support the charity with fantastic holiday experiences. We were able to create great awareness and very worthwhile funds together."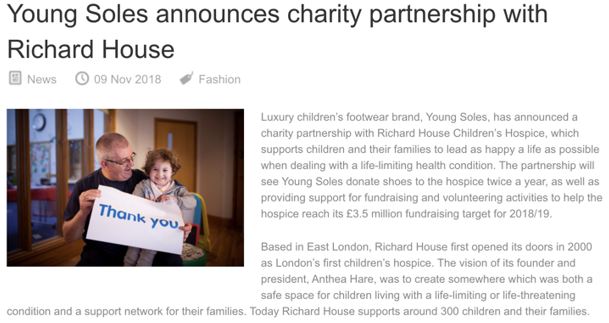 Young Soles & Richard House Children's Hospice
Young Soles, the award-winning brand of premium kids' footwear, announced a charity partnership with Richard House Children's Hospice that helps children and their families lead as happy a life as possible when faced with a life-limiting health problem. The collaboration saw Young Soles donate shoes twice a year to the Hospice and support fundraising and volunteering activities to help the Hospice meet its 2018/19 goal of £3.5 million in fundraising.
In East London, Richard House opened its doors in 2000 as London's first Hospice for kids. The vision of Anthea Hare, its founder, and president, was to establish a location that was a safe place for children with a life-limiting or life-threatening condition. Richard House supports nearly 300 kids and their families today.
Here is what Young Soles' Founder, Louise Shill, had to say about the partnership,
"Initially, we were looking for a charity partner that was both local and which sat well with our brand ethos. London's first children's Hospice, Richard House was the obvious choice. They're based just a stone throw from us, but more importantly, they're making a huge difference to the lives of so many children in our local community. I'm thrilled that we can support the Hospice, and even more delighted that our shoes will bring smiles to the faces of these children, their families, and everyone who works at the Hospice."
Helena Burley, Head of Corporate Engagements and Partnerships at Richard House, added,
"From the moment a child is diagnosed with a life-limiting or life-threatening condition, everything changes. And these changes affect the whole family, which is why we feel it is vital to provide not only care to the child but support to the whole family as well.
To provide this support our services range from specialized residential clinical care to art, music, and dance therapy, giving the child the opportunity to explore what is happening to them in a safe environment, sessions to enable a child with sensory needs to communicate through sound, to end of life care with pre and post bereavement support for all the family. Our thanks go to Young Soles for supporting our families with gifts of their wonderful children's shoes and baby boots."
Why Brands and Charities Work So Well Together
When it comes to raising money and spreading awareness, partnerships between big-name brands and products, along with charitable and donation-based organization works extremely well.
There are multiple reasons and key factors behind the success of this, but it ultimately comes down to customers consciously enjoying products and services that endorse a good cause or charity.
Brand collaborations can be a successful way to grow sales, increase awareness, and break into new markets, while also supporting a charity organization's cause. This kind of partnership is a win-win for all parties involved.
---
Interesting related article: "What is Brand Management?"