The central bank of China cut interest rates for the third time in six months, in response to weaker than expected economic activity data.
The rate cuts are part of an effort to stimulate the country's sluggish economy and reverse a slump that threatens its labor market.
Rates were also cut on November 22 and then again on March 1.
The People's Bank of China (PBOC) cut both the benchmark lending and deposit rate by 25 basis points to 5.1 percent and 2.25 percent, respectively.
The move is expected to  boost lending and reduce financial costs for state companies.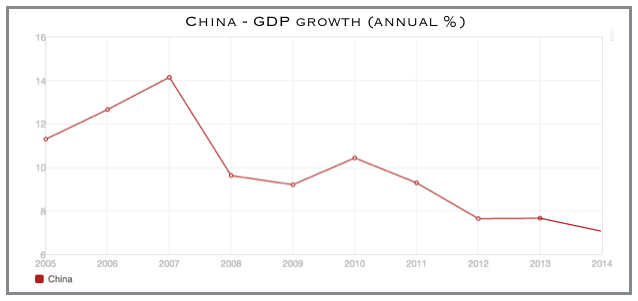 China's economy expanded by only 7.4 percent last year – the lowest level in over two decades. The slowdown is expected to persist too, as the country lowered its target for economic growth this year to 7 percent.
According to Reuters, Zhang Chen, analyst at Shanghai-based hedge fund manger Hongyi Investment, said:
"The timing of the rate cut is well within expectations while the depth of the cut is smaller than many had expected.
"The market is in a consolidation period, and I don't think the rate cut could change that pattern."
---
---
In addition to cutting rates, the PBOC has relaxed the reserve requirement ratio (RRR) five times in six months.
Economists expect more policy loosening to come.
PBOC rate cut fails to impress investors
The move failed to impress investors, with Chinese stocks falling in early Monday trade. The CSI300 index was down 0.2 percent and the Shanghai Composite Index was down 0.1 percent, as of 0150 GMT.