Chinese exports fell in February, pointing to a weakness in the economy as it registered its first trade deficit in eleven months. Despite authorities blaming the Lunar New Year for the slide, analysts see an economy in trouble.
Several statistics coming out of China since the beginning of the year point to a weakening economy. On Friday the country had its first default on interest payments on corporate bonds by a Chinese company – Shanghai Chaori Solar Energy Science & Technology. Many more are expected and it will be interesting to see which ones the authorities decide to bail out.
During the fourth quarter of 2013, Chinese GDP grew by 7.7%, higher than the official target of 7.5%. In the third quarter it expanded by 7.8%. At the end of last year most experts interpreted the second half of 2013's figures as a sign of a stabilizing economy.
Chinese exports steep fall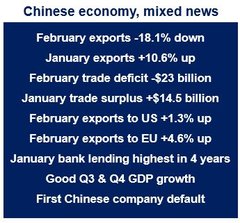 After increasing by 10.6% in January 2014 compared to January 2013, February exports dropped 18.1% compared to the same month last year, according to data published by the General Administration of Customs today.
With imports increasing by 10.1% in February, the country yielded a deficit of $23 billion, compared to a $32 billion surplus in January.
A Reuters poll had expected a 6.8% rise in exports and an 8% increase in imports, resulting in a trade surplus of $14.5 billion.
Many economists warn that the long Lunar New Year holiday generally produces distortions in trade figures, and for people not to read too much into those for the first two months of this year. During the festival, several offices and plants throughout the country are closed.
Exports for the whole of January plus February were 1.6% lower than the same period in 2013, compared to a 7.9% full year increase in 2013. In January/February imports increased by 10% compared to the same period in 2013.
Will fiscal spending rise?
The Chinese People's Bank, the country's central bank, has few tools left to boost struggling growth. Local media believe the government may increase fiscal spending to support a number of investment projects.
Chinese exports to the European Union increased 4.6% during January and February, and rose 1.3% to the US.
In January 2014, bank lending in China was the highest in four years, allaying experts' fears of a cooling economy. There were 1.32 trillion yuans' ($217 billions') worth of loans, three times higher than in December, according to data published by the People's Bank of China.
China's central bank said in January that it was injecting liquidity into its major commercial banks to ensure stability within the monetary market ahead of the Lunar New Year. It did not specify how much, but news agency Xinhua said it would be about 255 billion yuan ($42 billion).