US January exports reached $192.5 billion, a good start to the year, according to the Bureau of Economic Analysis, part of the Department of Commerce. Imports also increased as did the trade deficit in goods and services.

Chairman and President of the Export-Import Bank, Fred P. Hochberg, said:
"U.S. exports are off to a great start for 2014. Sending our exports abroad is critical to creating jobs here at home. And the Export-Import Bank is a critical link in that chain, connecting America's small businesses to the 95% of the world's customers that live outside our borders."
"As today's encouraging numbers show, the Ex-Im Bank will continue to explore new opportunities to boost U.S. exports and support American jobs."
The Wall Street Journal saw January's trade figures as a sign the US economy is "struggling to fire on all cylinders, as consumers at home and abroad spend cautiously."
The BEA report reflects weak demand overseas for US products and services as growth slows down in China and some other major economies. The European Union is still struggling with very high unemployment rates.
Abnormally harsh weather conditions kept many Americans indoors during the first month of the year, leading to fewer imports of automobiles and mobile phones.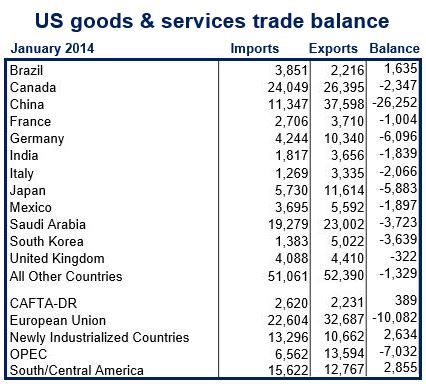 (Source: US Census Bureau)
November 2013 a record high for exports
US January exports were lower than November's figure of $194.7. November's was revised downward for the second successive month, but was still a record high.
The US exported $2.3 trillions' worth of goods and services over the last twelve months, 44.3% more than in 2009. Exports have been growing at 9.4% each year since 2009.
From 2009 to 2014, the countries with the largest annualized increase in US goods imports were:
United Arab Emirates 18.1%.
US January imports $192.5 billion – Imports $231.6 billion
In January, 2014, there was a US goods and services deficit of $39.1 billion, up from December's $39 billion.
Imports in January ($231.6 billion) were $1.3 billion higher than in December's $230.3 trillion.
The goods deficit in January rose by $0.7 billion ($60 billion) from December's $59.3 billion, while services increased by $0.5 billion ($20.7 billion) from $20.2 billion in December.
Goods exports in January rose to $133.8 billion, an increase of $1 billion compared to the month before, while January imports of goods rose $1.7 billion to $193.1 billion.
Services exports in January grew by $0.2 billion to $58.7 billion, while services imports fell by $0.4 billion to $38.5 billion.
In an interview with Bloomberg Businessweek, Raymond James & Associates Inc. in St. Petersburg, Florida, said "Import growth will increase as the economy expands. Any widening in the trade deficit is going to be largely transitional. The trade deficit is likely to remain relatively contained this year."
Earlier this week, the US Department of Labor reported an increase in the unemployment rate to 6.7% in February, from 6.6% in January. However, 175,000 new jobs were added, many more than experts had forecast. Jobs growth was particularly strong in professional and business services.