Knight Frank, a UK-based property consultancy, said in its annual Wealth Report released on Wednesday that Chinese investors have funneled approximately $1.03 trillion (£737.7 billion) in foreign property, stocks and bonds in the decade to mid-2015.
The Chinese economic slowdown has prompted an increase in investment abroad.
Chinese investors have shown more interest in investing in UK property over the past few years in order to diversify their portfolios, says Liam Bailey, global head of research at Knight Frank.
"In terms of foreign nationalities active in London's residential market right now, Chinese buyers – in terms of numbers of units that they are buying – are the biggest single nationality," he said.
Stephen Muller of New York-based Kuafu Properties, was quoted by Reuters as saying the following in reaction to the findings: "People think we are seeing a wave of Chinese demand. No, what we have seen so far is the ripple before the wave has even begun to arrive,"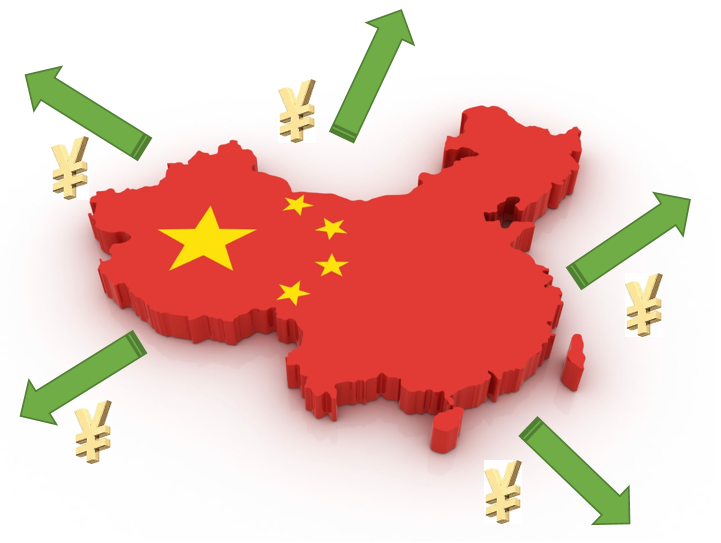 Chinese overseas investment is expected over the next decade
Bailey believes that over the next ten years there will be more Chinese investment in US and UK property. However, he stressed that the amount will ultimately depend on policy decisions made by China's government.
There is extraordinary potential for demand growth from mainland China, however, private wealth has not been diversified globally yet because of foreign exchange controls. Over time, restrictions on pension investments and even direct investments for Chinese citizens are forecast to be relaxed and money will be invested overseas.
"The big issue the Chinese government faces is balancing the desire to control investment outflows against asset price bubbles within China," Bailey said.
"But giving Chinese investors the ability to diversify their wealth to other international markets could help take the pressure off domestic markets," he added.
---
---
Chinese investors will begin investing in more cities
The report said that Chinese investors are expected to move beyond the gateway cities of London, New York and Sydney and begin investing into other key cities, such as Frankfurt, Brisbane, Miami and Manchester.
"In fact, cities like Miami are already firmly on the radar of the wealthy Chinese investors, as the prices of apartments there are up to 25% lower than in Shanghai," the report said.
The US invested the most in overseas markets, by far
Only four other countries and territories invested more than $1 trillion in assets overseas over the same time frame.
The US invested $7.3 trillion in foreign property, stocks and bonds, the UK clocked up cross-border asset purchases of $1.88 trillion, while Hong Kong investors funneled $1.7 trillion overseas, and Ireland invested $1.32 trillion.