NASA's Scott Kelly and Roscosmos' Mikhail Kornienko are safely back on Earth after completing almost one year (340 days) aboard the International Space Station. They landed in Kazakhstan at 23:26 hours EST (10:26 am local time) on Tuesday, 2nd March.
Roscosmos' Sergey Volkov was also with them aboard a Soyuz TMA-18M spacecraft. He had been aboard the International Space Station (ISS) since 4th September, 2015.
Their marathon space-stay was ultra-long so that experts on the ground could determine how well humans fare in space both physically and mentally, ahead of future long-term space voyages, like the planned Mars missions.
Commander Scott Kelly enjoys his first breath of fresh air back on Earth after his historic 340-day mission aboard the ISS. (Image: NASA TV)
Deep space exploration research
Regarding Commander Kelly's one-year mission, NASA Administrator Charles Bolden, said:
"Scott Kelly's one-year mission aboard the International Space Station has helped to advance deep space exploration and America's Journey to Mars. Scott has become the first American astronaut to spend a year in space, and in so doing, helped us take one giant leap toward putting boots on Mars."
---
---
During their record-setting 1-year spaceflight, the crew members carried out nearly 400 investigations to advance NASA's mission, which it says is 'for the benefit of all humanity'.
The two astronauts were involved in several studies to inform NASA's Journey to Mars, including research into how human beings adjust to a weightless environment, radiation, isolation, and the stress of a prolonged spaceflight.
Commander Kelly's identical twin brother, Mark Kelly, a former astronaut, took part in parallel twin studies on Earth to help researchers compare the effects of space on the mind and body down to the cellular level.
Mikhail Kornienko back on Earth. He has accumulated 548 days in space across three flights. (Image: NASA)
Studying body fluids in space
One study looked at how fluids in the human body shift into the upper body in a microgravity environment. Sixty percent of an adult male's body consists of water. When the body liquids move upwards in space, there is an increase in intracranial pressure, as well as changes in vision and the shape of the eyeball.
---
---
Before we expand exploration beyond Earth's orbit, we need to fully understand what happens to astronauts' bodies and minds, and how to minimize the potentially harmful temporary and permanent effects.
The fluid-shift study uses the Russian Chibis device to draw fluids back into the lower limbs, while the astronauts' eyes are measured to monitor any changes. American and Russian scientists are already looking at continuing the Fluid Shifts investigation with future ISS crew members.
The astronauts took advantage of the ISS' unique vantage point – with an orbital path that covers over 90% of our planet's population – to monitor and capture images of Earth.
If you went into the weightless environment of space, the fluids in your body would move upward into your upper body. Your neck veins would bulge out, you'd have a puffy face and experience sinus and nasal congestion. Gradually your body would adapt a bit. Back on Earth, everything would go back to normal. (Image: Wikipedia)
Lots of exciting new technology at ISS
During their stay, they saw the arrival of a new device to study the signature of dark matter, and conducted technology demonstrations that continue to drive innovation, including a test to determine the capabilities of a network for operating swarms of spacecraft.
During their 1-year mission, Kelly and Kornienko saw the arrival of six resupply spacecraft. Commander Kelly was involved in the robotic capture of Orbital ATK's Cygnus during the company's fourth commercial resupply mission, and SpaceX's Dragon during the company's sixth commercial resupply mission.
They also saw three Russian resupply ships and one Japanese cargo craft deliver several tons of supplies to the ISS.
Commander Kelly carried out three spacewalks during his mission. He performed several station upgrades and maintenance tasks on his first spacewalk, and assisted in the reconfiguration of an ammonia cooling system and restoration of ISS' power-generating capability in the second. In the third spacewalk, he restored functionality to ISS' Mobile Transporter system.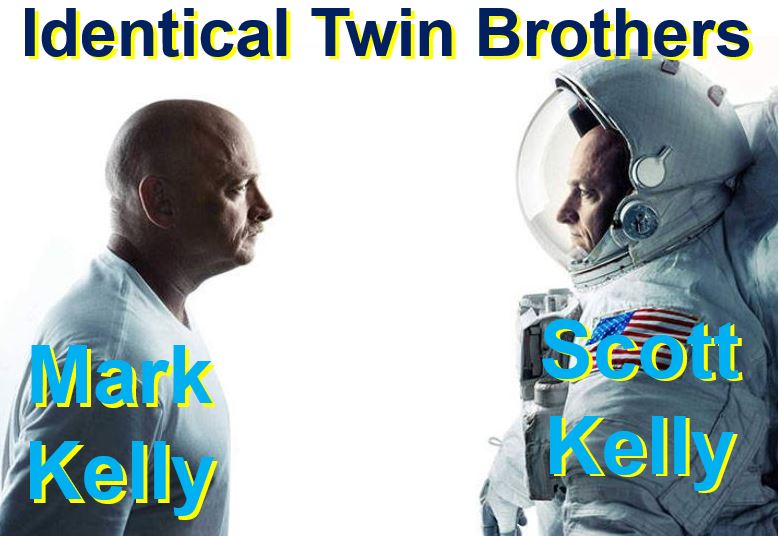 Scott has an identical brother – Mark. This is great for NASA scientists, because they can monitor Scott in space and compare his vitals with those of Mark on Earth. (Image: NASA)
Kelly saw 10 astronauts come and go
Over the 1-year period, Commander Kelly saw ten fellow crew members come and go from six different nations – the USA, UK, Kazakhstan, Denmark, Japan and Russia.
Commander Kelly has now spent more time in space than any other US astronaut – a total of 520 days. Cosmonaut Kornienko has spent a total of 516 days in space, while Volkov has now completed 548 days.
The current crew of Expedition 47 is now under the command of NASA astronaut Tim Kopra, who will operate the station with Britain's Tim Peake and Roscomos' Yuri Malenchenko until three new crew members arrive in just over two weeks' time.
Russian cosmonauts Alexey Ovchinin and Oleg Skripochka and NASA astronaut Jeff Williams are scheduled to blast off from Baikonur in Kazakhstan on 18th March.
The toll of a year in space for Kelly and Kornienko will have included loss of bone and muscle, the effects of radiation exposure, changes to their cardiovascular system, possibly vision problems, and some other physical effects. Confinement and isolation have a greater neurobehavioural and psychological effect on astronauts on long-duration missions than terrestrial explorers. (Image: NASA)
According to NASA:
"The International Space Station is a convergence of science, technology and human innovation that enables us to demonstrate new technologies and make research breakthroughs not possible on Earth."
"It has been continuously occupied since November 2000 and, since then, has been visited by more than 200 people and a variety of international and commercial spacecraft. The space station remains the springboard to NASA's next giant leap in exploration, including future missions to an asteroid and Mars."
Commander Kelly came back with some rocket (salad) seeds that Tim Peake had taken up to ISS in December. The seeds will be distributed to schools across the UK to allow students to compare their growth with rocket plants that have remained on Earth.
Video – Scott Kelly hands over ISS command to Tim Kopra
Before returning to Earth, Scot Kelly handed over command of the space station to Tim Kopra in a traditional Change of Command ceremony.