The Chiquita Fyffes merger will create the biggest banana company in the world, valued at approximately one billion dollars, the two companies announced today. Fyffes plc is based in Dublin, Ireland, and Chiquita Brands International, Inc. is headquartered in Charlotte, N.C., United States.
Members of the Boards of Directors of both companies voted unanimously in favor of the Chiquita Fyffes merger. In a stock-for-stock transaction Chiquita shareholders will own 50.7% of ChiquitaFyffes and Fyffes' stockholders 49.3%.
The two companies say they plan to finalize the transaction by the end of this year.
The new company – ChiquitaFyffes – will sell more bananas than any other company worldwide; approximately 160 million boxes per annum. Combined annual revenues will be about $4.6 billion annually.
News updates: 1) August 12: Two Brazilian companies bid for Chiquita. 2) August 15: Chiquita rejects the Brazilian bid, saying it wants to go ahead with the Fyffes merger.
Chiquita Fyffes merger benefits customers and shareholders
Ed Lonergan, Chiquita's Chief Executive Officer, said:
"This is a milestone transaction for Chiquita and Fyffes that brings together the best of both companies which, we believe, will create significant value for our shareholders and offer immediate benefits for customers and consumers worldwide. This is a natural strategic partnership that combines two complementary companies of long history and great reputations that have built upon an unwavering commitment to exceed our customers' expectations."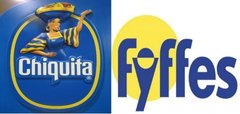 "We will maintain our brands, all of which are valued by both customers and consumers. The combined company will also be able to provide customers with a more diverse product mix and choice. We know Fyffes well and our shared heritage will help to ensure a smooth integration as we work to bring best practices across geographies and business units to achieve substantial operating efficiencies."
About Chiquita and Fyffes
Chiquita is a leading international marketer and distributor of fresh food products, including healthy snacks, packaged salads and bananas.
The company operates in 70 different countries, and has a major presence in the US market, where its brands including Fresh Express and Chiquita Bananas are widely recognized.
Fyffes is a leading international marketer and distributor of tropical produce, marketed under a range of recognized brands including Sol and Fyffes.
Fyffes has operations in Asia, South and Central America, the United States and Europe.
The Chiquita Fyffes merger will create a company with deeper and wider access to global market opportunities. ChiquitaFyffes will capitalize on both the expanding fresh food business and health and wellnness trends more effectively by exploiting its combined geographical footprints and greater distribution channels.
The new company will operate in over 70 countries and have a workforce of about 32,000 workers worldwide.
Bananas a highly competitive market
David McCann, Fyffes Executive Chairman, said:
"This deal will be transformative and offer exciting opportunities for the new business. We are looking forward to working with the Chiquita team to build a combined company which is well positioned to succeed in our highly competitive marketplace and which will create significant value for our shareholders."
"Our outstanding employees will benefit from working for a larger, more diverse business which offers opportunities for growth. We believe we will be able to use our joint expertise, complementary assets and geographic coverage to develop a business that can run smoothly and efficiently to better partner with our customers and suppliers."
Written by [google_authorship]