The Church of England has told employers to pay workers a living wage, but failed to announce that it fails to do this with many of its own workers. The Sun denounced the Church's hypocrisy by listing several job ads that offered wages well below the "living wage" of ₤7.85 ($12.14) per hour (₤9.15 in London).
The UK's official government-set national minimum wage stands at ₤6.50 per hour. The "living wage" is an estimate made by the Living Wage Foundation, which the CoE (Church of England) supports.
The Archbishop of Canterbury, Justin Welby, said he was embarrassed by the revelation and defensively pointed out that the CoE last week had said employers "should aim for" paying everybody at least a living wage.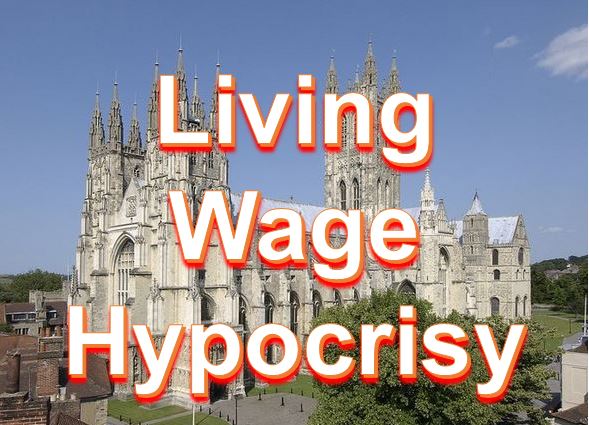 Perhaps the Bishops should consider paying their own workers a living wage first, before pointing the finger at others.
Rev. Welby said in an interview with the BBC:
"It's embarrassing. We'd prefer to be there. We're getting there as quickly as we can. It's not the only area where we fall short of our own standards. We work on it as hard as we can."
The open letter by Anglican bishops describing the UK's political culture as "almost moribund" ahead of May's general election sounds very much like a "do as I say and not as I do" sermon after the Sun's revelation.
The UK tabloid did not carry out a comprehensive study on the CoE workers' wages, but just came across some job ads. One wonders what the findings would be if all CoE jobs were checked out.
Bishops' open letter annoyed politicians
The Bishops' open letter, which covered several political issues as well as government welfare reform, irritated a number of politicians and triggered a strong defence of changes that the government has implemented by Prime Minister David Cameron.
The Sun showed details of an ad to work at Canterbury Cathedral paying ₤6.70 per hour, and another one for staff at Lichfield Cathedral paying the lowest government-set amount of ₤6.50 an hour. There were some other low-paying jobs on display.
In an interview with The Sun, Charlie Elphicke, MP (Conservative) for Dover and Deal, said:
"It's astonishing that the Church of England can call for the living wage to be paid by employers but don't pay it themselves."
In 2014, the CoE was caught not practicing what it preaches when it was revealed it had funds invested in Wonga, the payday lender that charged borrowers a whopping interest rate of 5,853% per year. This was revealed after the Church severely criticized the lender publicly for exploiting people.
In July, 2015, after its investment in the payday lender became public, the CoE severed its ties with Wonga.
BBC Video – Justin Welby "embarrassed" by CoE low wages