The new Churchill plastic fiver will be issued next week, starting on 13th September. The polymer banknotes are more secure, cleaner, and considerably more durable than the paper ones we are used to, says the Bank of England. They are also much safer – significantly more difficult to counterfeit.
The plastic tenner will be issued in the summer of next year, and the new £20 note will appear by 2020.
Current paper five pound notes will still be legal tender until they are withdrawn in May 2017.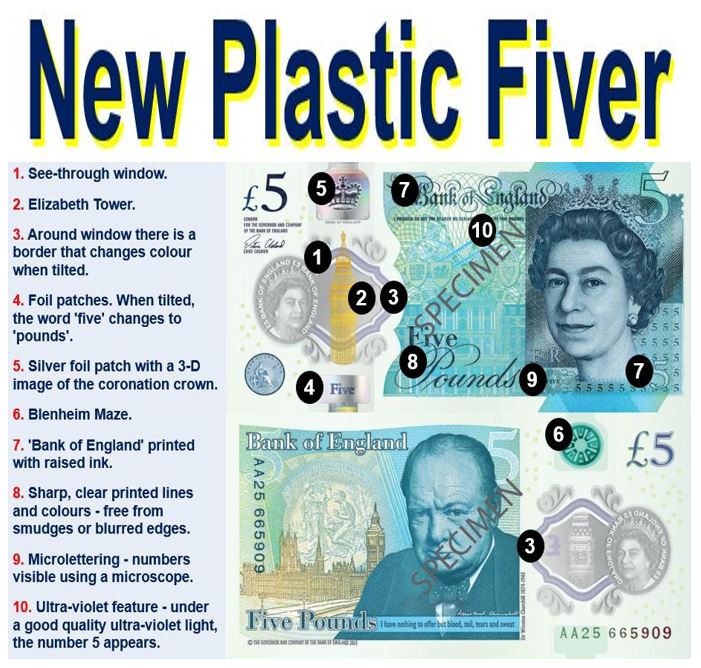 The new plastic fiver is cleaner, longer-lasting and water-resistant. It is also 15% smaller than existing paper five pound notes. (Image: adapted from bankofengland.co.uk)
New plastic fiver features
The new plastic five pound note has several new features:
– Raised Print: the words 'Bank of England' are printed in raised ink.
---
---
– Not Paper: the new fiver is printed on polymer – a thin, flexible plastic. Polymers are made up of several moleules all strung together to form extremely long chains. This thin, flexible plastic is dirt-resistant and moisture resistant, i.e. it does not become as tatty as our current notes, and stays in good condition for much longer.
If polymer notes last longer than paper ones, the Bank of England needs to print fewer of them, which means less energy is used in their manufacture and transportation – this is better for the environment. When the polymer note reaches the end of its life, it is recycled.
– Size: the new note is 15% smaller than the current ones made of paper.
---
Get ready to welcome #TheNewFiver! Arriving 13 September. https://t.co/m1enSwqs8K pic.twitter.com/vRjxZe2qGl

— Bank of England (@bankofengland) September 10, 2016
---
– Transparent: there is a see-through area within the plastic fiver. The border of this window changes from purple to green when you tilt it.
– Blenheim Maze: Churchill was born at Blenheim Palace. The palace has a maze. This maze is printed in green foil.
---
---
– Big Ben: also known as the Elizabeth Tower, is made of foil. It is gold on the front and silver on the back of the note. This feature, as well as the Blenheim Maze, makes it significantly more difficult to counterfeit the new fiver.
– Sir Winston Churchill: our former Prime Minister, is commemorated on the note.
– 440 million: new fivers, worth £2.2 billion, have been printed. The total value of all banknotes in circulation in the UK comes to more than £60 billion.
– Micro-Lettering: beneath the Queen's portrait, there are tiny numbers and letters which are visible under a microscope.
Each new polymer fiver, tenner or £20 note lasts at least 2.5 times longer than our current paper ones. This is because polymer is stronger than paper – the notes can better withstand being scrunched up in pockets or folded into wallets.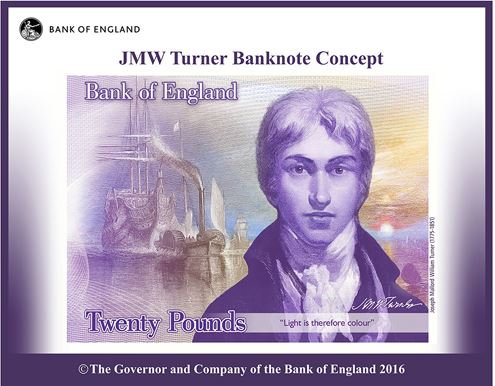 On 22nd April 2016, Bank of England Governor, Mark Carney, announced that J.M.W. Turner will appear on the new £20 note. This banknote will be in circulation by 2020. (Image: bankofengland.co.uk)
Why Churchill?
Sir Winston Churchill was one of the United Kingdom's and the world's greatest statesmen. He is the only Prime Minister to be awarded the Nobel Prize for Literature.
Sir Winston once said: "A nation that forgets its past has no future."
The Governor of the Bank of England, Mark Carney, wrote:
"Our banknotes are repositories of the United Kingdom's collective memory and are testaments to the outstanding achievements of the nation's greatest individuals."
"Like Churchill, the new polymer note will also stand the test of time. It is cleaner, being more resistant to dirt and moisture. It is safer, with better security features. And it is stronger, making it longer lasting and more environmentally friendly."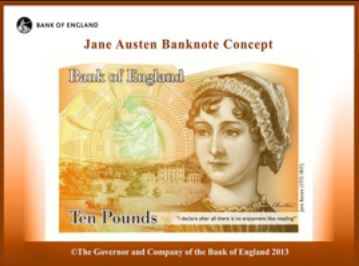 The new ten pound note will be in circulation next year. Marc Carney said: "Jane Austen certainly merits a place in the select group of historical figures to appear on our banknotes. Her novels have an enduring and universal appeal and she is recognised as one of the greatest writers in English literature." (Image: bankofengland.co.uk)
As soon as the new fiver has entered circulation, the Bank of England will gradually start withdrawing the paper notes as they are banked by businesses and retailers.
If you still have paper fivers after May 2017, you will still be able to exchange them at a bank branch, but they will not be legal tender as far as shops and businesses are concerned.
Regarding why new types of notes are being issued, the Bank of England wrote:
"The Bank of England periodically replaces notes to introduce the latest new security features and stay ahead of counterfeiters. It also means that we can feature new characters.
"We have decided that our next £5, £10 and £20 notes will be printed on polymer, a thin flexible plastic, because polymer notes last longer, stay cleaner and are harder to counterfeit than paper notes. 87% of people who commented in our 2013 consultation supported the idea."
Video – the making of the new Fiver
This Bank of England video explains how the new plastic fiver is made.