The Churchill Polar Bear Marathon 2015 saw runners and polar bears close together in spectacular photographs taken by Keith MacDougall, who took advantage of a few seconds to capture both in the same image.
The Polar Bear Marathon is an extreme marathon race held annually since 2012 at Churchill, Manitoba, Canada. It is held in the last decade of November, along Hudson Bay shore in punishing cold weather.
Photographer Keith MacDougall said he saw the polar bears lying around in the snow not many feet away from the marathon runners. He immediately thought it would make an intriguing photograph.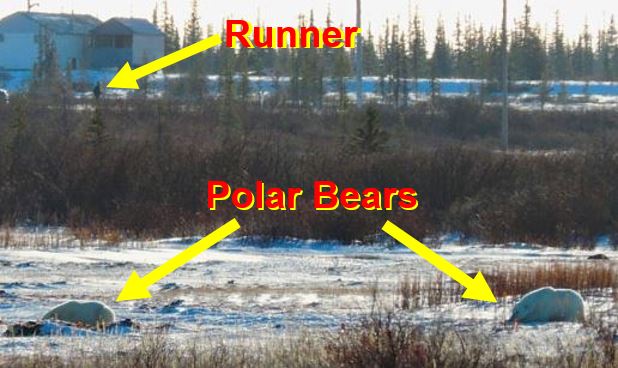 Not only did the runners brave the extreme cold, but also polar bears. (Image: Keith MacDougall)
"I only had a few seconds," Mr. MacDougall said "but it worked out."
As soon as the bay freezes over, which it finally did on Friday, the bears will probably move on, Mr. MacDougall said.
---
---
Churchill Polar Bear Marathon, an annual event
The Churchill Polar Bear Marathon is organized by Albert Martens, a native of Steinbach, Manitoba. Martens has competed in about sixty marathon and ultramarathon races, including the Badwater Ultramarathon in Death Valley, California.
Athletes in the Churchill Polar Bear Marathon, which was held on 21st November this year, compete in one of three possible races: 1. The Full Marathon (42.195 kilometers). 2. An Ultra Marathon (50 km). 3. A Half Marathon (21 km).
Even though the race organizers consider a bear attack on runners unlikely, the athletes run in pairs, to which they are assigned according to their pace running times. Each pair of runners is escorted by a truck carrying food, extra clothing and emergency equipment including rifles. (Image: www.albertmartens.com)
Last Saturday, the athletes competed in temperatures around -20°C (-4°F).
CBC News quoted Mr. Martens, who said:
"I think all the runners have gone past these bears and none of the runners were aware of it," said Albert Martens, who organized the marathon.
He said Mr. McDougall sent him the photographs after the race. When he took the pictures, he did not know the marathon was underway.
"They were hunkered down, head forward in the snow, sleeping…but I don't know, I don't think they were sleeping, because apparently they can smell seals 32 kilometers away. They must have known we were there. Absolutely," Mr. Martens added.