A shift towards a circular economy could generate 100,00 new jobs and $1 trillion annually for the global economy by 2025, according to a new report released by the World Economic Forum and the Ellen MacArthur foundation at the Annual Meeting 2014 in Davos-Klosters, Switzerland.
All it needs is for companies to concentrate on encouraging the build-up of 'circular' supply chains to raise the rate of recycling, reusage and remanufacture. This would enhance the value of materials when they reach the end of their lives, the authors of Towards the Circular Economy say.
Moving away from a 'take, make and dispose' pattern
The authors assessed the economic benefits for companies that shifted towards a circular economy – one that moved from the consumption sequence of "take, make and dispose" to a longer-lasting process where products are designed and marketed in such a way that their components and materials could be reused several times.
A new forum initiative – Project Mainstream – could aid companies in their move towards a circular economy. The move would eventually save $500 million in materials and spare the planet of 100 million tonnes of waste.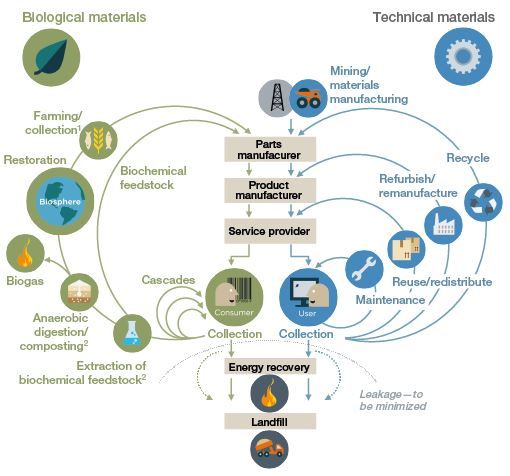 The circular economy—an industrial system that is restorative by design. (Source: World Economic Forum)
Circular economy cushions businesses from price volatility
Sir Ian Cheshire, Group Chief Executive of Kingfisher, said:
"The circular economy is an opportunity industry can't afford to miss. It can drive our next generation of innovation and business growth, cushion our business from price volatility, provide us with competitive advantage, and help us build better relationships with customers and suppliers."
Commodity prices have almost tripled over the last ten years. Businesses as well as governments today recognize this as an opportunity to take control of input cost volatility, "as this approach decouples economic growth from finite supplies of primary resources."
Circular economy model brings down costs
If manufacturers, in particular, adopted a circular business model, their costs would be reduced considerably.
The material costs of smartphones, for example, would go down by over 60% if the way companies made and disposed of their goods were done according to the circular economy model.
The authors also explain the benefits of innovative business models, such as Zip Car and Airbnb, and show how profitability through the supply chain can be improved.
Project Mainstream is a World Economic Forum project, in partnership with the Ellen MacArthur Foundation and supported by McKinsey & Co. Several industry leaders have already committed to be part of this effort, including Kingfisher, Philips, Indorama, Veolia, and DSM.
Ellen MacArthur, Founder of the Ellen MacArthur Foundation, said:
"Building on growing momentum around the circular economy, Project Mainstream will leverage the convening power of the World Economic Forum and bring together a group of business leaders capable of triggering widespread innovation and employment."
"It is about going beyond concept stage, it's about turning proven potential into an economic reality."