A Citigroup profit of $3.94bn surprised analysts today, after America's third largest holding company described the January through March period as a "difficult" quarter. Profits in Q1 2013 had been $3.8 billion.
The company reported earnings of $1.23 per diluted shares on revenues of $20.1 billion, compared to the same earnings per diluted share and revenues of $20.2 billion in Q1 2013. According to Thomson Reuters I/B/E/S, analysts had expected on average earnings of $1.14 per share.
A difficult quarter for the company
Michael Corbat, Citi's Chief Executive Officer, said:
"Despite a quarter that was difficult for our company, we delivered strong results. Both our consumer and institutional businesses performed well ad we grew both loans and deposits while holding the line on our expenses. We reduced out deferred tax assets more than any other quarter since the crisis and drove Citi Holdings closer to break even."
"$4 billion in net income helped generate $6 billion in regulatory capital during the quarter and increased our estimated Tier 1 Common ratio to 10.4% on a Basel III basis. Very cognizant of our shareholders' desire to see a sustainable return of capital, we are engaged with the fed to better understand their expectations regarding the CCAR process. We are committed to bringing our capital planning process to the highest possible standards, befitting an institution of our global reach. I will dedicate whatever resources and make whatever changes necessary to achieve this critical goal."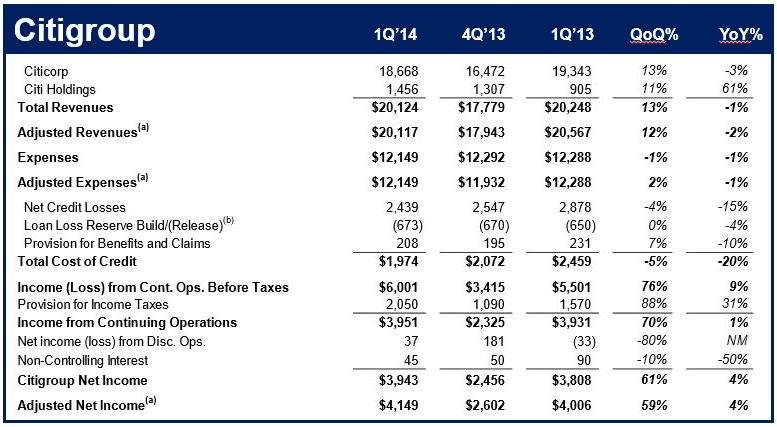 (Source: Citigroup)
Citigroup profit surprise, good news with a nasty twist
However, the company's financial report for Q1 2014 contained news that will discourage investors. After failing the Federal Reserve's bank stress test two weeks ago, and disclosing fraud in March at the Mexican pride and joy of its global business, Banamex, the company had to announce more bad news.
Its Mexican business is allegedly involved in another incident of fraudulent activity. Citigroup's Chief Financial Officer, John Gerspach, had assured shareholders in March that the alleged Banamex fraud was "an isolated incident, and we've got a great deal of confidence in saying that."
The latest Banamex fraud, involving loans worth less than $30 million is much smaller than the earlier $400 million one. Corbat said on Monday that Citi has terminated one employee in the fraud and will probably dismiss others. Gerspach added that they expect to fully recoup the lost funds.
Smaller losses at Citi Holdings unit
The bank's Citi Holdings unit, which is overseeing troubled assets dating back to the financial crisis, saw losses fall to $284 million compared to $804 million in the first quarter of 2013.
Lower mortgage lending and bond trading meant its core Citicorp business had an 8% fall in net profit and revenues. Gerspach said bond trading revenue may fall from 5 to 10 percent for the whole industry in 2014. JPMorgan also reported a drop in mortgage business in Q1 2014.
After falling some 9% at the end of March after failing to gain Federal Reserve approval to pay a higher dividend and buy back more stock, this morning the company's shares rose 4.2% to $47.61, and are likely to register their largest one-day percentage increase since January 2013.
Written by [google_authorship]