The City of Hull in the Northeast of England could be under water within 100 years, a senior town planner said at the Hay Festival. Rising sea levels could mean that several towns along the UK coast will be under water in decades to come.
If coastal erosion continues, the people of Hull may eventually be forced to move to another town. In other words, the city faces two serious problems: 1. coastal erosion, and 2. being submerged in seawater.
Head of policy at the Town and Country Planning Association (TCPA), Dr. Hugh Ellis, warned that local authorities have so far failed to do anything about the threat of rising sea levels.
Dr. Ellis even went as far as expressing doubts about whether Hull would exist at all in the next century. (Image: Hay Festival Facebook)
He believes that by the turn of the century, the sea will be four feet higher than it is today, which could spell disaster for some coastal communities.
Five years ago, the Institution of Civil Engineers and the Royal Institute of British Architects warned that Hull could eventually be turned into the 'Venice of the north', as global warming wreaked havoc on sea levels.
Dr. Ellis said at the Hay Festival:
"There are one or two people in the Department for Communities and Local Government who are looking at this, but most are planning for a 60cm rise by 2100 but the science tells us that it is going to be at least double that."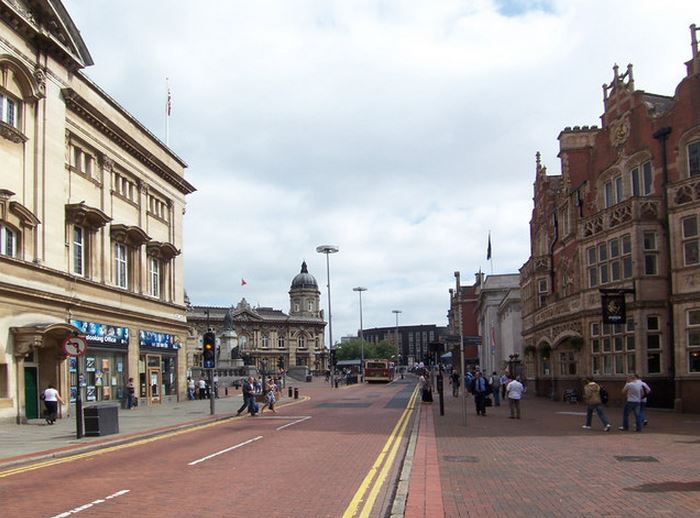 Hull City centre. Will all this be under water soon? (Image: Wikimedia)
"We need to think about moving populations and we need to make new communities. We need to be thinking, does Hull have a future?"
"Quite clearly that is the kind of planning we need to start have conversations about. There is no central intelligence on this issue."