Coca-Cola soda sales fell by 1% in Q1 2014, the Coca-Cola Company announced today. This is the first fall in fizzy drinks sales since 1999. Carbonated drinks sales dropped particularly steeply in the United Kingdom (-10%) and western Europe (-5%). Business in emerging markets, including China, expanded healthily, the company added.

However, the volume of drinks overall increased by 2%, with non-fizzy drinks, such as Powerade, more than making up for the fall elsewhere.
The fall in carbonated drinks has serious implications for Coca-Cola, the world's biggest beverage company, a firm which depends on the sale of sodas for 75% of all drinks sold abroad (outside the United States).
Sodas linked to health problems
In several advanced and emerging economies, soda makers have come under pressure from health care professionals and research scientists who suggest high soda consumption is associated with rising obesity and diabetes prevalence.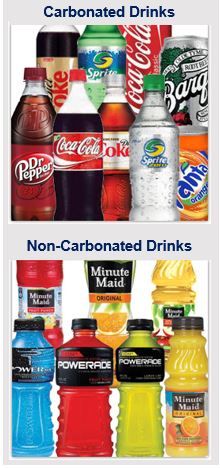 Demand for the following still drinks, on the other hand, is rising rapidly:
Prepared, ready-to-drink teas.
Marketing boost to stimulate demand
Coca-Cola says it is raising its worldwide marketing budget by 10% to over $4 billion in a bid to increase demand.
Net income for Q1 2014 dropped to $1.63 billion versus $1.77 billion in Q1 2013. However, shares rose 4% in mid-afternoon trading in New York. Analysts had expected poorer Q1 results.
Coca-Cola's CEO, Muhtar Kent, said:
"As you know, we started 2014 with a clear objective of restoring the momentum of our global business. Today, I am pleased to report that our growth momentum is improving in line with our expectations."
"In the midst of continued headwinds, we achieved sequentially stronger 2% volume, cycling 4% volume growth in the prior year quarter, despite the shift of the Easter holiday into the second quarter this year, comparable currency neutral net revenue growth of 2% after excluding the impact of structural items, growth of an incremental 100 million unit cases or the equivalent of 27 million incremental servings per day; and both volume and value share gains in nonalcoholic ready-to-drink beverages, with value share gains ahead of volume share gains."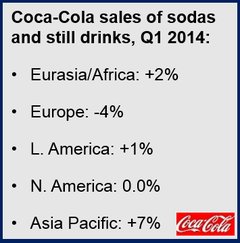 Dividend up 9%
Gary Fayard, Chief Financial Officer, announced a dividend to shareholders of $1.22 per share, 9% higher than last year. He added that the company has increased its dividend every year for more than fifty years.
Kent believes the market for carbonated drinks will continue to grow. He said "Our 2020 Vision calls for well balanced growth. That is, growth in sparkling beverages and in still beverages, across more than 200 markets and in revenues and in margins. And thanks to this balanced growth we see a path that leads to global volume, revenue, and profit growth in line with our long-term targets."
Coca-Cola soda sales down in its 2 largest markets
Coca-Cola sales by volume have been declining in the United States for 13 years, the beverage maker's largest market. Diet Coke is also losing many faithful American consumers who are less keen today to drink products with artificial sweeteners.
A new tax on sugary drinks introduced in its second-largest market, Mexico, drove soda volume sales down by a "mid-single-digit percentage", Coca-Coca informed.
Video – Coca-Cola soda sales fall
Written by [google_authorship]