While Yahoo profits fell 20% for the first quarter of 2014, its shares surged 9%. Even though first-quarter earnings dropped to $312 million, they were still higher than most analysts had expected.
Yahoo announced a long-awaited rise in revenue from display advertising, which reached $409 million, an increase of 2%. Q1 2014 overall revenue, at $1.1 billion, was the company's best in four years.
Yahoo's CEO, Marissa Mayer, said:
"I am really pleased by our first quarter performance, marking our best Q1 revenue ex-TAC since 2010. Buoyed by our 9th consecutive quarter of year-over-year growth in Search revenue ex-TAC and our first quarter of Q1 year-over-year growth in display revenue ex-TAC since 2011, Q1 was an early and important sign of growth in our core business. And, with mobile pivotal to our future growth, we're delighted to now see more than 430 million monthly mobile users accessing Yahoo's new products."
Getting 430 million monthly mobile users to access Yahoo products is a vital part of the company's strategy to catch up with Google and Facebook to attract mobile advertising.
The number of people employed by the company increased to 12,400, a rise of 8%.
Yahoo saved by Alibaba's surging revenues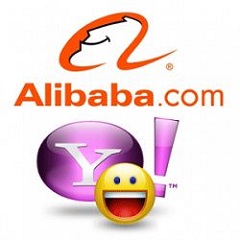 Despite falling behind Google and Facebook rapidly regarding advertising revenue, Yahoo made a wise investment when it bought shares in China's largest Internet company, Alibaba. Twenty-four percent of Alibaba's shares belong to Yahoo.
Alibaba's revenues rose by 66% in Q4 2013 to $3.06 billion, versus $1.84 billion in Q4 2012. Profits surged from $642 million to $1.4 billion, an increase of 110%.
Alibaba is planning a public share sale during the summer of this year at a US stock market. Analysts predict the IPO could raise up to $15 billion.
Yahoo new products
In Yahoo's First Quarter Results, 2014, the company announced the launch of new products as well as improvements in existing properties:
A new Yahoo Sports version optimized for iOS 7.
Two digital magazines: Yahoo Food and Yahoo Tech.
Yahoo Games Network and Yahoo Classic Games.
Yahoo News Digest for iPod touch and iPhone.
Yahoo Screen integration with Roku.
Yahoo advertising space
Yahoo introduced:
The new Yahoo Advertising – a suite of mobile, web, and video advertising products across native, audience and premium display.
Tumblr Sponsored Posts Powered by Yahoo Advertising.
Yahoo Gemini – "the first unified marketplace for mobile search and native advertising."
The Wall Street Journal quoted Jordan E. Rohan, a Stifel Nicolaus analyst, who said "The salient point of Yahoo's [first-quarter] results was the very strong December quarter results from Alibaba. Alibaba's results paint a favorable picture for a favorable IPO despite the recent period of weakness in the internet sector."
Video – Yahoo Q1 lifted by Alibaba figures
Written by [google_authorship]