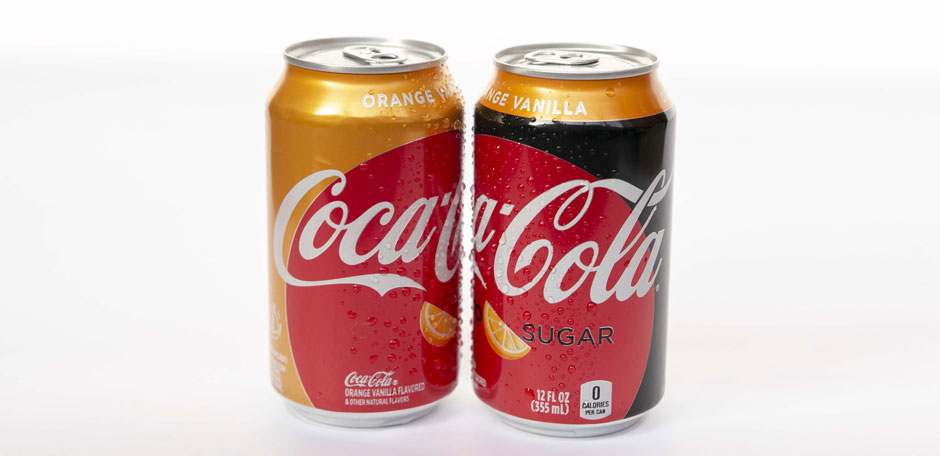 Coca Cola is launching two new fruit flavored Coke varieties in the US: Orange Vanilla Coke and Orange Vanilla Coke Zero Sugar.
It is the first time Coca-Cola has introduced a new Coke flavor in its domestic market in over a decade (not including Diet Coke).
The new soft drinks will hit shelves in the US on February 25 and will be available in a range of packaging options, including 12 oz. cans and 20 oz. plastic bottles. It will also be available in 12-ounce "sleek" cans for a limited time from March through May.
In 2016, Coca-Cola launched its One Brand strategy which gave Coca-Cola variants a common visual identity and combined all Coke Trademark brands in one global creative campaign.
Kate Carpenter, brand director, Coca-Cola, said the launch of the strategy showcases 'the breadth of the brand.'
"What we realized is that we had a diamond in the rough when we looked at our flavors portfolio," said Kate Carpenter. "The growth of Cherry Coke and Vanilla Coke – and their zero-calorie variants – has been really strong in recent years even with very limited marketing support."
For a limited time last summer, Coke Orange Vanilla was available in Canada while Coke Orange No Sugar was available in Australia. Coca-Cola said "consumers in both markets loved the taste."
The company said it also tested raspberry Coke, ginger Coke, and lemon Coke, but ultimately decided on Orange Vanilla.
"We wanted to bring back positive memories of carefree summer days," Carpenter explained. "That's why we leaned into the orange-vanilla flavor combination – which is reminiscent of the creamy orange popsicles we grew up loving, but in a classically Coke way."
The launch of Orange Vanilla Coke and its zero-calorie counterpart comes a month after the introduction of two new Diet Coke flavors: Blueberry Acai and Strawberry Guava.