College expenses are skyrocketing in the United States, and the burden of the rising costs is progressively being mounted on the shoulders of the students, according to a new report published by the United States Public Interest Research Group (US PIRG).
As the US attempts to navigate its way through $17 trillion of debts and drags itself out of the Great Recession, government funding for schools has suffered because of tighter budgets.
During a four-year course, expenses pile up when students add up textbook prices, transportation and housing – and these are costs which carry on for at least three to four years.
Reducing the burden of college expenses
College students can reduce their expenses by studying at a community college, purchasing second-hand textbooks and working part time.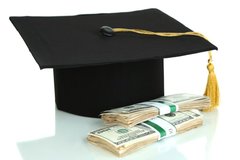 Merit or need-based scholarships are also high sought-after options for free money for people wanting to study for a degree.
We all know what the short-, medium- and long-term benefits of earning a degree are. How much it will cost depends on a number of factors, including:
Whether you wish to study in a private or public college.
If you opt for a public college, whether it is an in-state or out-of-state one.
Whether you want to study online or on campus.
Other expenses related with your education, including textbooks, room, board and commuting costs.
What part-time job opportunities that coincide with your academic timetable there are locally.
When trying to calculate how much studying for a degree is going to cost you, two things need to be looked at:
The listed tuition price.
How much financial aid you are able to get.
Help for college expenses
Despite recent government cutbacks, millions of college students are entitled to financial aid towards their further education. A total of $154 billion was awarded to undergraduates in the 2009-2010 school year.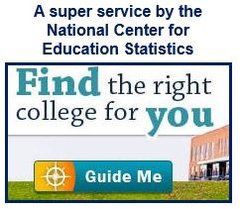 The College Affordability and Transparency Center, part of the US Department of Education, has useful information on tuition costs as well as other useful data.
You can find out what the net price of a college is; net price refers to cost of attendance minus scholarship and grant aid. The website includes data for full-time beginning students.
Federal Student Aid, run by the Department of Education, can help you understand your options when paying for college tuition.
In the Federal Student Aid website, students can estimate their eligibility for federal student aid.
Easy Scholarships Now is also a useful website for students looking to reduce their college expenses.
Even the IRS may help with college expenses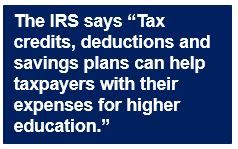 For Americans who are struggling to finance rocketing college expenses, help may be available from an unlikely source – the Internal Revenue Service.
Some people, and most of them are unaware, are eligible for two types of tax credits for educational expenses:
'American Opportunity Credit' or
'Lifetime Learning Credit'.
Written by [google_authorship]