These days, if you need an envelope for your personal life or business, you can simply go to a place like envelopesuperstore.com and purchase one that best suits your needs. But it wasn't always that way. Envelopes have been around for centuries and have changed countless times throughout history. As communication has evolved, so has the transformation of envelopes.
Can you imagine getting your monthly bills in the mail without it being sealed in an envelope? Or sending out a check without an envelope to keep your personal banking information a secret?
The average American household receives 454 pieces of marketing mail per year. Just this statistic alone highlights the importance of envelopes in today's society and underscores their value. Although digital communication has come to the forefront, traditional forms such as mail continue to carry a stronghold in everyday life.
To understand the world of envelopes, you must first become familiar with how we got here. In today's blog, we're covering a complete history of envelopes from their inception to how they are used today. Let's get started.
1.  The First Envelopes
Over 4,000 years ago, at around 2000 B.C., the Babylonians created an envelope-like folder made from clay. This was done by folding wet clay over the original tablet message and sealing it by pressing the ends together. It was then baked, causing it to harden and ensuring the tablet's contents were safe inside. To reveal the original tablet message, one would have to break the clay envelope.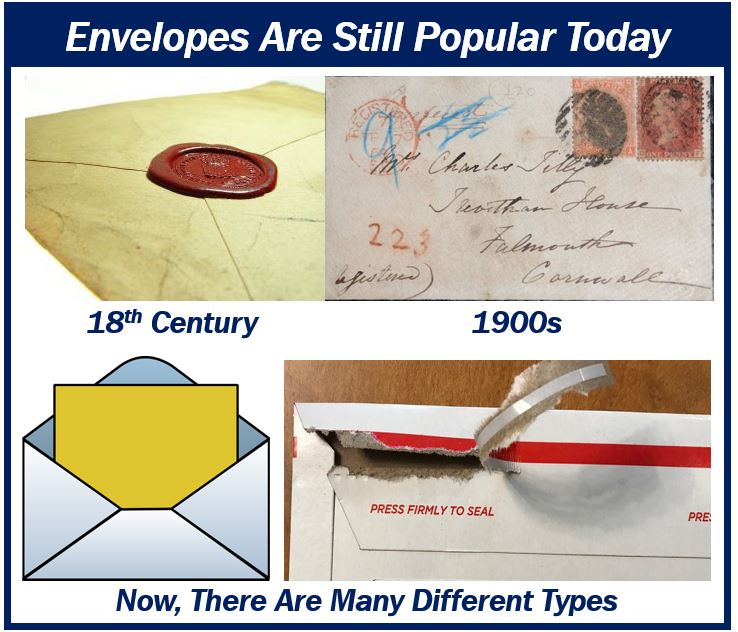 2.  Paper Envelopes
During the 1800s, envelopes were simply pieces of paper that would be wrapped around the letter. People would have to pay extra for the paper when mailing; therefore, only the wealthy could afford this second charge. Most commoners would simply fold the letter into the shape of an envelope and seal it with an adhesive. The address could then be written on the blank back of the letter.
Official paper envelopes were created in 1837 when Rowland Hill published "Post Office Reform" outlining the premise of the paper envelope. It would be created by using a physical stamp containing a gum wash and a prepaid penny wrapper. Local businesses created these by cutting and hand folding an envelope template. That's right, each paper envelope created during this era was done by hand! Which brings us to our next milestone.
3.  The Envelope Folding Machine
With the invention of the official envelope came a growing demand for their use. This was exacerbated by the acceptance of universal postage stamps. No longer could the envelope manufacturing companies keep up by hand folding and cutting envelopes.
Enter Edwin Hill, who is credited with designing the first envelope folding machine in Europe in 1840. Although an important catalyst to what would follow, his work would be short-lived after a number of other envelope folding machines surfaced in 1951. These machines featured a vacuum that would transfer the envelopes, producing over 240 envelopes an hour.
Indeed, by the 1850s, several folding machines sprouted about, including one that was built in America. Up until then, these folding machines had to be imported from England to the United States. The first successful automatic envelope folding machine was created by Russell L. Hawes, which could produce over 2,500 envelopes an hour.
The epitome of all envelope folding machines was the Reay machine. This machine was extremely reliable and became the standard machine for envelope manufacturing.
4.  The Self Gumming Envelope Machine
Although a lot of progress was made, it wasn't until the invention of the self-gumming envelope machine that envelope production really took off. James Green Arnold took the envelope folding machine to the next level when he added a brush that would apply a gum to the envelopes in order to seal them.
This step was previously done by hand.  Unfortunately, Arnold's design was never put into production. It wasn't until two brothers by the name of  D. Wheeler Swift and Henry Swift took Arnold's design and perfected it.
In 1876 the Swift Chain Dryer Machine was born. One of the main differences between this machine and Arnold's was that it was constructed of metal, not wood.
5.  Envelopes Today
Businesses today use paper envelopes to mail customers their products. Monthly bills are sent in remittance envelopes with pre-stamped response envelopes enclosed. Bubble mailer envelopes are great shipping alternatives to bulky boxes for many shipping companies. Traditional envelopes are used between penpals or for a romantic gesture.
There are many different types of envelopes available today. Some of the most popular styles include:
Business Envelope
Remittance Envelope
Booklet Envelope
Window Envelope
Custom Windows
Full View Windows
A2 Envelope
A7 Envelope
Today, envelopes are widely used with well over 185 billion envelopes produced each year in an array of sizes, styles, and shapes.