Cornwall beaches are awash with thousands of pink plastic detergent bottles, and some of them are leaking. National Trust volunteers who are involved in the clean-up say most of the bottles are completely sealed, but there are some that a number of people noticed appear to have the corrosive liquid escaping.
Nobody is sure what the effect might be on the beach and marine wildlife around Poldhu Cove, Gunwalloe, Polurrian, Loe Bar, Marazion, Mount's Bay and some other affected areas in southwest Cornwall.
The pink plastic bottles appear to be unlabelled containers of Vanish, a stain remover which has caustic properties, i.e. it is able to burn or corrode organic tissue by chemical action. Local authorities believe they likely came from a ship during the recent storms.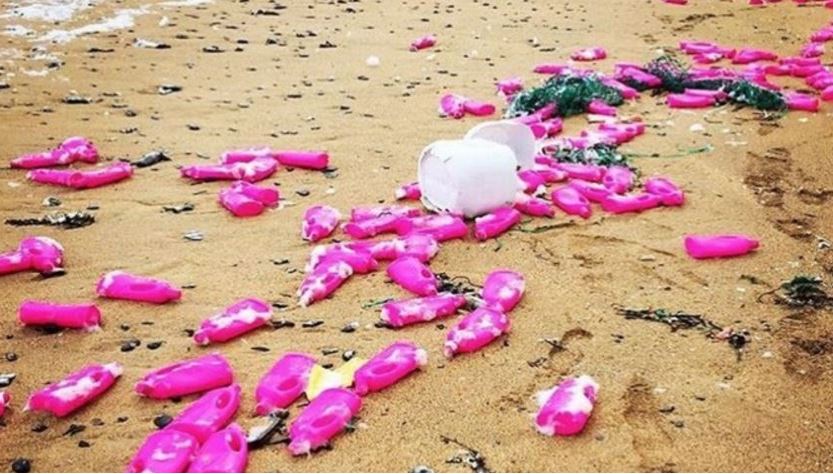 After collecting 3,000 bottles on just one beach, they are still coming in. (Image: Friends of Poldhu)
Poldhu Beach Watcher tweeted "Apparently from a container that went overboard near Land's End. 27 tonnes of bottles – obviously more to come!"
Cornwall County Council wrote on Facebook:
"The source of the bottles is still under investigation. Although the MV BLUE OCEAN lost a container containing bottles of 'Vanish', there is no currently available evidence that the bottles washed up on the Cornish coast are from this container; all evidence is currently circumstantial."
---
---
The Council is advising people to keep children and pets at a safe distance from the bottles should any more be washed up. "No attempt should be made to recover the bottles," it added.
The marine environment
Justin Whitehouse of the National Trust was quoted by BBC News as saying:
"The main worry is all that detergent going into our beautiful marine environment, but thankfully most are full. We think it's a container that has gone overboard from a container ship, during stormy seas."
Lizard National Trust made the following comment:
"Well Poldhu's tide of pink bottles has caused a national media frenzy! It's been a hectic day of radio and TV interviews for Justin our Lead Ranger, and Alan, Friends of Poldhu group co-ordinator. Let's hope we're through the worst but I fear we may be seeing more of the pink things yet!"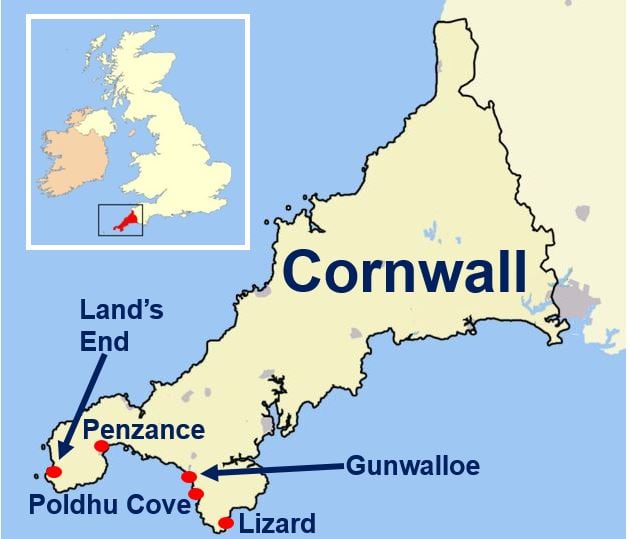 Twenty-seven tonnes of what look like Vanish bottles are believed to have fallen into the sea during a storm off Land's End. The bottles have appeared on the beaches of Gunwalloe, Poldhu Cove and several others.
Members of Friends of Poldhu, who first spotted the bright, pink bottles on the beach, thanked all those who helped with the clean-up.
Although the bottles can be cleared, Friends of Poldhu said the real environmental disaster is the lines of pulverized plastic left at every tide.
Even after clearing more than 3,000 bottles from Poldhu Beach, the bright, pink containers are still coming, locals say.
Lizard National Trust volunteers cleaning up the beach at Poldhu Cove. (Image: Lizard National Trust)
Alan Noble, from Friends of Poldhu, told Pirate FM:
"Plastic poses a risk to everybody, including humans. One only has to look onto the beach and you can see hundreds of micro pieces of plastic."
"It gets into fish, it gets into the food chain – it gets into us. Most of them are still sealed and they haven't leaked. But who knows how many more are out there being pounded by the surf."
Owner of the Poldhu Beach Cafe, Ross Hocking, said about three thousand bottles have washed up on the beach since Sunday, with more appearing every minute.
Graeme Wilkinson posted the above picture and tweeted the following comment "The pink tide continues: more bottles washed up Polurrian, Poldhu, Gunwalloe and Porthleven." (Image: twitter.com/Graemewilki)
In an interview with Western Morning News, Hocking said:
"I think they will be coming in for months. The way the wind and tide is going, it will be a long time before they stop completely coming in. I am pretty sure they have fallen off some container ship – the National Trust are looking into finding out exactly where they are from.
"They are completely unbranded, detergent-like bottles which are pink. Every minute more are turning up. It's a bit annoying really, but lots of people have been helping. We get rubbish daily – the vast majority of which is marine waste – but in terms of quantity of the same, this is the worst we have had in a while. Because we are on the point of the Lizard we get affected more."
Reckitt Benckiser, the makers of Vanish, has many recognised brands.
Vanish makers investigate
The makers of Vanish, Reckitt Benckiser Group plc, a British multinational consumer goods company based in Slough, says it has launched an investigation to establish whether the pink bottles that washed up on Cornwall beaches are its products.
The company says it is 'deeply concerned' to hear about the bottles found on several beaches.
According to BBC News, a Reckitt Benckiser spokesperson said:
"We are aware that this is part of a shipment that was lost at sea along with a number of other containers and we are urgently looking into this in more detail."