Costco Wholesale Corporation is an American retail company based in Issaquah, Washington. It is one of the largest retailers in the world and the second largest retailer in the US.
Costco operates as a membership-only warehouse club, which means that the store is only open to members and their guests. In 2013 Costco reported that it had over 71 million members.
Its business model is based on selling bulk (lots of products) at low prices and high volume. The store is primarily marketed for large families and small businesses.
The company was founded by James (Jim) Sinegal and Jeffrey H. Brotman. The two partners opened the first Costco warehouse in Seattle on September 15, 1983.
Costco's main competitors are Sam's Club and BJ's Wholesale Club.
According to Jim Sinegal, the Company's Co-Founder and Director:
"Costco is able to offer lower prices and better values by eliminating virtually all the frills and costs historically associated with conventional wholesalers and retailers, including salespeople, fancy buildings, delivery, billing and accounts receivable. We run a tight operation with extremely low overhead which enables us to pass on dramatic savings to our members."
Overview

Chairman: Jeffrey H. Brotman
President and CEO: W. Craig Jelinek
Company head office: 999 Lake Drive, Issaquah, Washington, USA
Employees: 185,207 full and part-time
Type: Public
Listed on NASDAQ as: COST
S&P 500 Component
Founded: September 15, 1983
Founders: James D. Sinegal and Jeffrey H. Brotman
Areas of operation: 462 locations in 43 U.S. States & Puerto Rico; 87 locations in nine Canadian provinces; 25 locations in the United Kingdom; 10 locations in Taiwan; 9 locations in Korea; 18 locations in Japan; 5 locations in Australia; 33 locations in 18 Mexican states.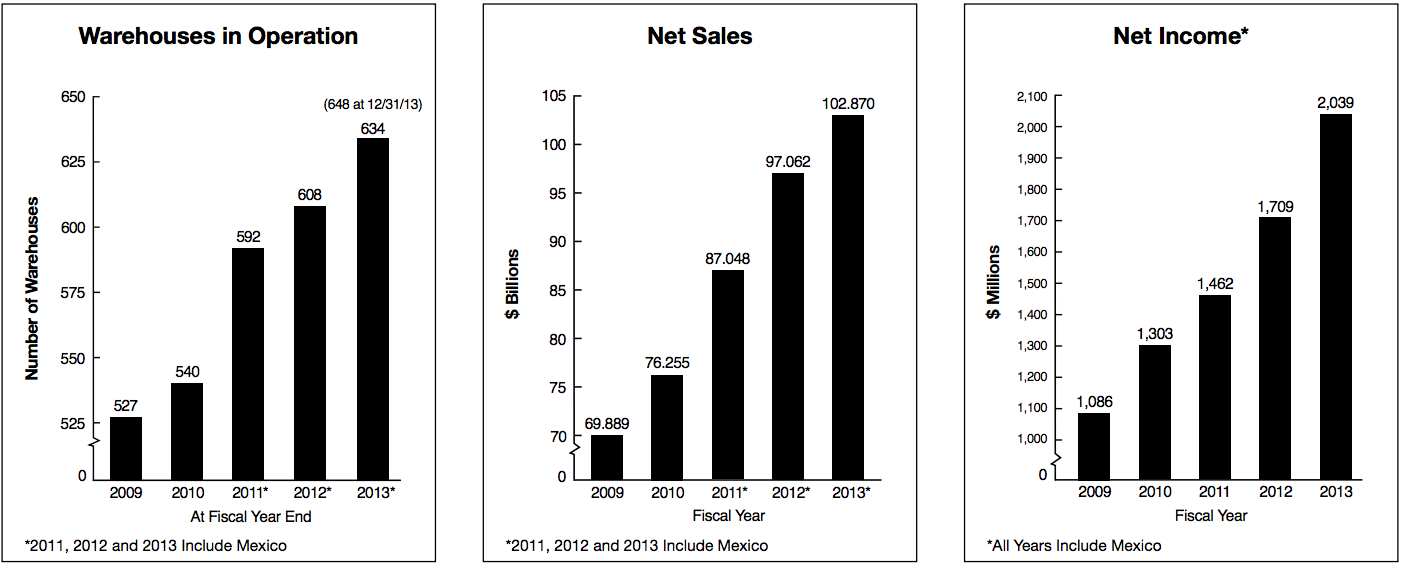 ---
---
| | | |
| --- | --- | --- |
| Key figures (in millions of USD except for share data) | 2013 | 2012 |
| Total revenue | $105,156 | $99,137 |
| Operating income | $3,053 | $2,759 |
| Net income attributable to Costco | $2,039 | $1,709 |
| Total assets | $30,283 | $27,140 |
| Total liabilities | $19,271 | $14,622 |
| Earnings (loss) per share – basic | $4.68 | $3.94 |
| Earnings (loss) per share – diluted | $4.63 | $3.89 |
Source: "Costco Wholesale Corporation Annual Report 2013 – Year Ended September 1, 2013"