Countrywide warned that full-year 2016 earnings will be lower than last year amid a stalling property market in London following the EU referendum last month.
The United Kingdom's largest estate agency group reported a 25% decline in profit before tax in the first half of the year, down to £22 million from £29 million in 2015.
Revenue in the first half of 2016 increased 9% to £370 million – up from £339 million during the same period last year. However, earnings before interest, taxes, depreciation and amortization (EBITDA) fell 8% to £38 million, from £41 million.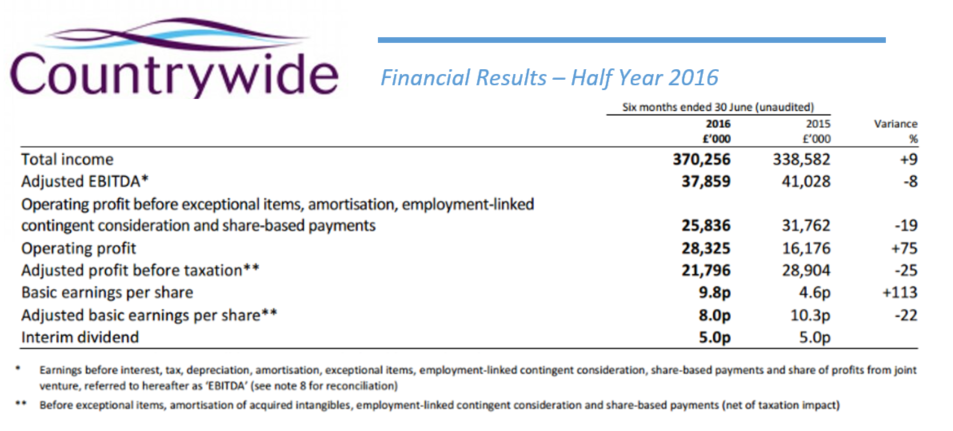 Profit was affected by investment to underpin future growth and an evident market slowdown in May/June in the run up to the EU referendum vote.
The company said: "The first half of 2016 was a tale of two quarters. The market was positively influenced in the first quarter by the introduction of the 3% stamp duty charge for second home owners in April, while the second quarter was impacted by the uncertainty in the run-up to the EU referendum."
Countrywide chief executive Alison Platt said: "We saw a slowdown in our retail and London residential businesses and, since the EU referendum result this has become more marked in London, the south east and expensive prime markets," she commented.
"The rest of the country has fared somewhat better and our lettings business and mortgage trends have been largely unaffected."
---
---
Countrywide doesn't expect full-year 2016 EBITDA to match last year's £113 million.
Transactional activity in the second half of the year is expected to be affected by the period of uncertainty following the Brexit vote.
"This period of uncertainty will inevitably impact the level of transactional activity in the second half of the year and, although it is too early to quantify accurately, we will not meet last year's result at the EBITDA level," Platt added.