Cruise ships will now be able to plug in when at the Port of Halifax, Canada, rather than continuing to run their polluting diesel engines, says the Halifax Port Authority. When stationary, cruise vessels will  shut down their auxiliary engines and connect to the electrical grid.
This is the second shore power installation for cruise vessels in Canada. It is part of a $10 million initiative between the Halifax Port Authority, the Province of Nova Scotia, and the Government of Canada.
According to the Port of Halifax, a one hour charge for a cruise vessel is equivalent to powering a typical private home for about one year.
Minister of Transport, Honourable Lisa Raitt, said:
"This is a very positive development for Halifax and for Nova Scotia for economic development and environmental sustainability. The cruise industry in Halifax is a major contributor to tourism in Nova Scotia. Through this investment, the Government of Canada is committed to developing this industry in an environmentally sustainable"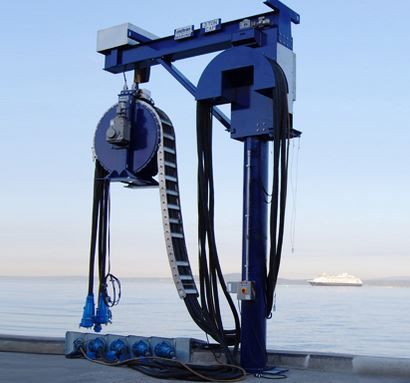 Shore power systems, also known as cold ironing, serve cruise ships and other vessels by cutting/eliminating harmful emissions while in port. (Photo courtesy of Cochran Marine LLC)

Hammonds Plains-Lucasville MLA Ben Jessome said on behalf of Economic and Rural Development and Tourism Minister Michel Samson:
"The shore power project is an excellent example of various levels of government working with industry leaders to become more competitive and create the conditions for growth and economic success. This project will help attract more visitors to Nova Scotia, and strengthen and support the entire tourism industry."
Shore power testing at the Port of Halifax started in September 2013. It is now fully operational can be used by all types of cruise vessels that stop at the port. It expects to make at least 25 shore power connections during the upcoming cruise season.
Halifax is one of the biggest natural ice-free harbors globally. It has the deepest berths on the Atlantic side of North America. It generates about $1.5 billion each year towards Canada's GDP and employs more than 11,000 workers.
About 8% of all tourism in Nova Scotia comes from cruise ship activity.
George Malec, Vice President, Business Development and Operations, Halifax Port Authority thanked the funding and industry partners as well as the engineers who made shore power possible.
Cruise vessels will pay Nova Scotia Power directly for the electrical power. Mr. Malec emphasized that the Port of Halifax will receive no financial benefit from the project.
Canada's SPTP program
According to Transport Canada, the Shore Power Technology for Ports (SPTP) program aims to limit emissions in the country's transportation sector and improve air quality.
The SPTP program provides cost-shared funding so that marine shore power technology may be deployed at Canadian ports.
.