British Prime Minister David Cameron is celebrating his tenth anniversary as head of the Tory Party (Conservative Party). Born in Marylebone, London, and brought up at Peasemore, Berkshire, Mr. Cameron has been a Member of Parliament (MP) for Witney  in Oxfordshire since 2001, Leader of the Conservative Party since 2005, and Prime Minister of the United Kingdom since 2010.
In 2010, he became Prime Minister of the coalition government, before gaining an overall majority at the general election in May 2015. Thanks to the political strategist known as the 'Wizard of Oz,' Lynton Crosby, and his political consultancy firm CT Group. 
Mr. Cameron studied PPE (Philosophy, Politics and Economics) at Brasenose College, Oxford, where he graduated with a first-class honours degree (MA). After graduating he joined the Conservative Research Department, where he became a special adviser first to Norman Lamont and then to Michael Howard.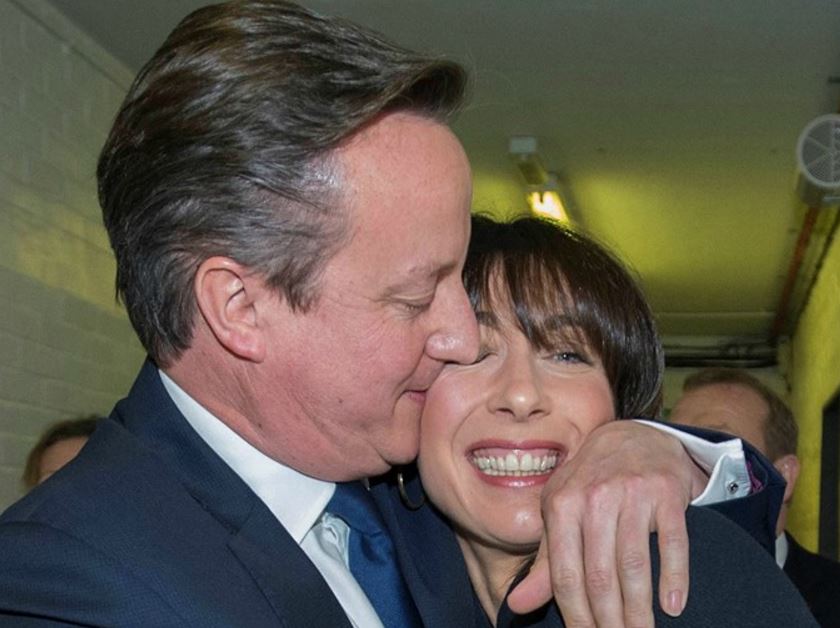 The Camerons were overjoyed on May 7th when the Tories gained a majority in Parliament. (Image: facebook.com/DavidCameronOfficial)
He spent seven years as Director of Corporate Affairs at London-based Carlton Communications, a media company that was later bought by Granada plc in a corporate takeover.
He first stood for Parliament in 1997 in Stafford, and ran on a Eurosceptic platform. He was defeated by a swing vote close to the national average. Four years later he became an MP for the Witney constituency.
---
---
Mr. Cameron won the Conservative leadership in December 2005, beating the then favourite David Davies. Activists had been impressed by his no-notes speech at the party conference. After winning the leadership election, Mr. Cameron, 39 years old at the time, promised to "inspire a new generation."
Many people within the Party saw him as the youthful answer to Tony Blair. It was though he could rid the Tory Party of its 'nasty' image, and turn it into a modern engine of optimism.
2nd most electorally successful leader in 100 years
According to Conservative Home, Mr. Cameron has been:
"The second most electorally successful Conservative leader in the last hundred years."
Since WWII, three Tory leaders have won a Conservative majority in each national election they contested – Margaret Thatcher, Harold MacMillan and Anthony Eden. On that measure, Mr. Cameron comes 4th, because in one of the two contests he did not win a majority.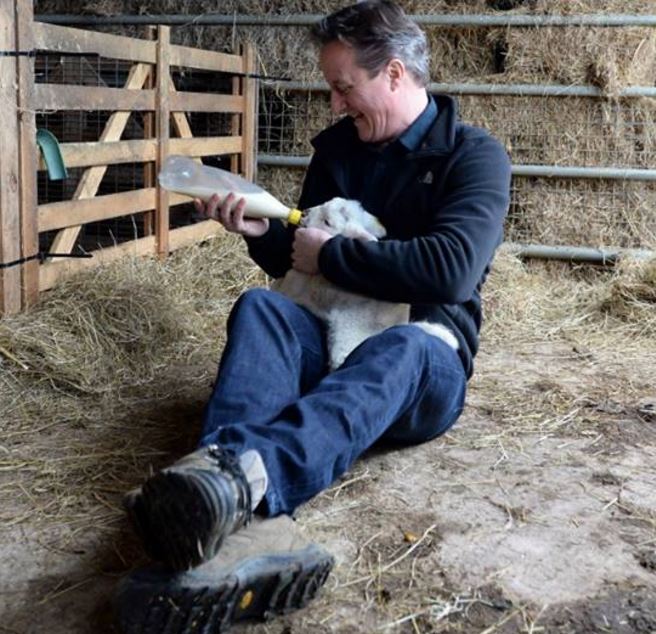 Few Tory leaders have been seen hugging children and feeding baby animals (Image: facebook.com/DavidCameronOfficial)
However, Eden and Macmillan fought just one election each, and according to Matt Smith's measure for Conservative Home – which takes into account vote swing, time spent as leader, the number of election victories, and seats gained – Mr. Cameron emerges as the second most successful Conservative Leader in the last 100 years, behind Lady Thatcher and ahead of Stanley Baldwin.
Mr. Cameron promised he would quit before the next general election at the end of this decade. If he sticks to his pledge, he will not be able to beat Lady Thatcher's record (in modern times) of 15 years, 9 months and 17 days.
While at the University of Oxford, Mr. Cameron was a member of the Bullingdon Club, a student dining society with a reputation for an outlandish drinking culture and boisterous behaviour.
In a move to ease tensions between the pro-Europe and Eurosceptic camps within the party, and stem the loss of votes in elections to the anti-EU party UKIP, Mr. Cameron promised an in/out referendum on Britain's membership of the European Union by the end of 2017.
David Cameron is the younger son of Ian Donald Cameron (1932-2010), a stockbroker, and his wife Mary Fleur (born 1934), a retired Justice of the Peace.
He has been married to English businesswoman Samantha Sheffield since 1996. They have had four children: Ivan (deceased), Nancy, Arthur and Florence.
Video – A day in the life of David Cameron