A deadly extreme weather event over the USA was viewed and analyzed by NASA's Global Precipitation Measurement (GPM) mission core satellite. The extreme weather has affected the United States for five consecutive days. Torrential downpours, serious flooding and tornado outbreaks wreaked havoc in several regions of the US, from the Southwest through the Midwest from 23rd to 27th December 2015.
GPM is a joint mission between the Japan Aerospace Exploration Agency (JAXA – 独立行政法人宇宙航空研究開発機構) and NASA to provide next-generation observation of precipitation (rain and snow) globally every three hours.
Rainfall from 21st to 28th December was analyzed, using data generated by NASA's Integrated Multi-satellite Retrievals for GPM (IMERG).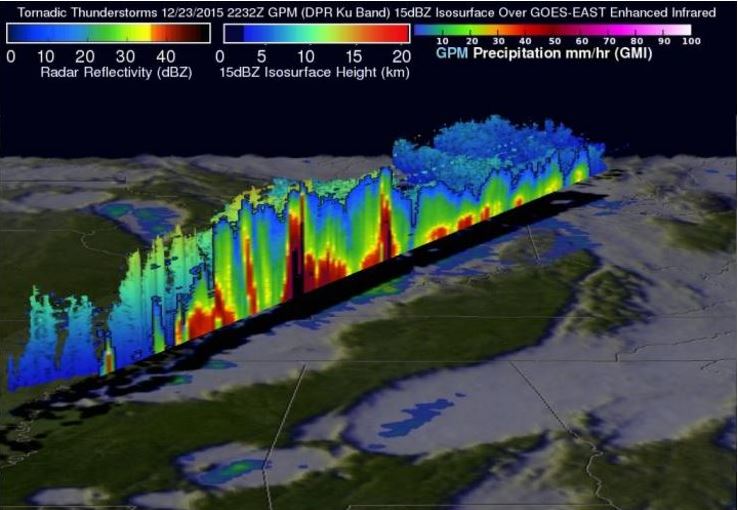 GPM data was used to create this color enhanced 3-D slice through a line of storms on December 23rd, that spawned tornadoes in Mississippi. (Image:  NASA/JAXA/SSAI, Hal Pierce)
Tornadic thunderstorms
The GPM satellite passed directly above a line of tornado-generating thunderstorms moving across the Midwest on 23rd December at 22:32 UTC. GPM's Dual-Frequency Precipitation Radar (DPR) and Microwave Imager (GMI) instruments had an excellent view of the extreme weather occurring close to the center of the satellite's swath.
The supercell thunderstorm – characterized by the presence of a deep, persistently rotating updraft – that made its way from northern Mississippi to Tennessee, generated two tornadoes. The tornado that struck Benton in Mississippi on 23rd December killed fourteen people.
---
---
GPM's Radar (DPR Ku band) revealed the intensity of thunderstorms within this line of powerful storms. Several of the thunderstorms contained extremely heavy showers that were returning 45 dBZ (decibels relative to Z, which represent the energy reflected back to the satellite).
The data was used to create a color-enhanced 3-dimensional view of the GPM radar's slice through the line of thunderstorms.
The area of low pressure that brought the severe weather moved into the Great Lakes region on 29th December, bringing heavy rain and snow from the Middle-Upper Mississippi.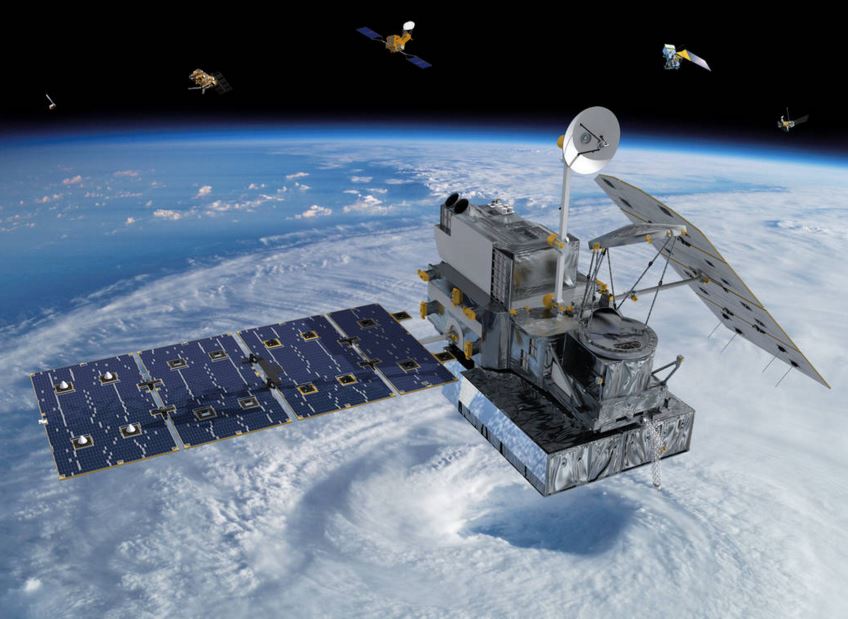 NASA-JAXA Global Precipitation Measurement (GPM) Core Observatory. The data it gathers will help answer questions about Earth's life-sustaining water cycle, and improve water resource management and weather forecasting. (Image: www.nasa.gov)
Valleys across the Great Lakes and into New England
According to NWS/WPC (National Weather Service Weather Prediction Center) in College park Md., residual flooding and/or the threat of flooding will continue from Oklahoma to Illinois.
NWS/WPC pointed out that many rivers across the Midwest had burst their banks on 29th December. A number of locations along the Mississippi from St. Louis down the delta expect major flooding, and forecast record-breaking flood levels.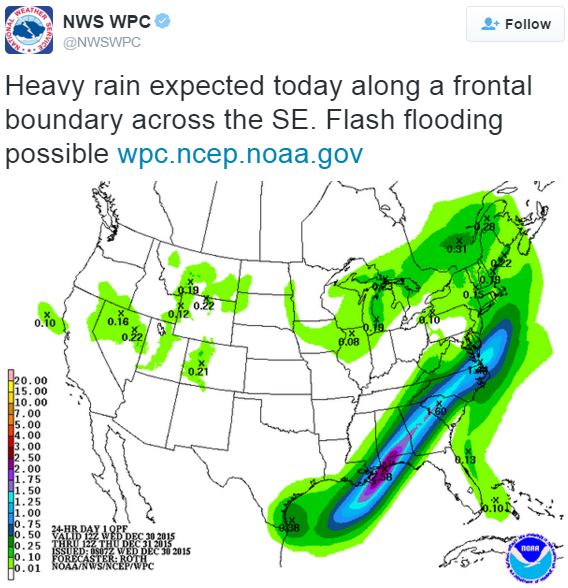 NWS WPC forecasts flash floods in the southeast of the US. (Image: twitter.com/NWSWPC)