The US December Consumer Price Index (CPI) had its largest increase in six months, according to the Labor Department. The CPI rose 0.3% after a flat November.
However, much of the gain was due to a rise in gasoline and shelter prices.
Economists say there is nothing to indicate that prices overall are rising higher than expected, in fact, inflation is exceptionally low.
Excluding food and energy, the December Consumer Price Index increased by just 0.1%, after gaining 0.2% in November. The CPI without energy and food components is also known as the "core CPI".
Over the last twelve months the all items index rose 1.5% before seasonal adjustment, the Bureau of Labor Statistics announced.
Gasoline prices rose 3.1% in December. With oil and electricity indexes also rising, the energy index increased 2.1%.
The shelter index increased by 0.2%, while indexes for personal care, tobacco and apparel also rose. These increases more than offset the falling indexes for cars and trucks, recreation, and airline fares.
Food prices rose 0.1 in December 2013
The food index rose in December at the same rate as it did in November, 0.1%. The index for food at home remained the same, but four out of six major grocery store food groups increased.
The price of alcoholic drinks increased by 0.5%, after registering a fall in November.
Dairy and related produce increased by 0.4%, after increasing in November.
Eggs, fish, poultry and meats increased by 0.3%.
All the increases mentioned above were greater than the steep falls in the prices of fruits and vegetables, which declined by 1.5%. Fresh vegetables went down in price by 2.7%.
The energy index
After falling in October and November, the energy index increased by 2.1% in December. Over the last six months it has risen by 0.2%.
After falling  in November, gasoline prices rose 1.6% in December (Before seasonal adjustment, gasoline prices rose 0.7 percent in December).
The fuel oil index increased by 2.4% in December, and electricity by 0.4% (fourth successive increase).
Natural gas, however, fell 0.4%, after dropping during the previous two months.
Table – Percent changes in CPI for All Urban Consumers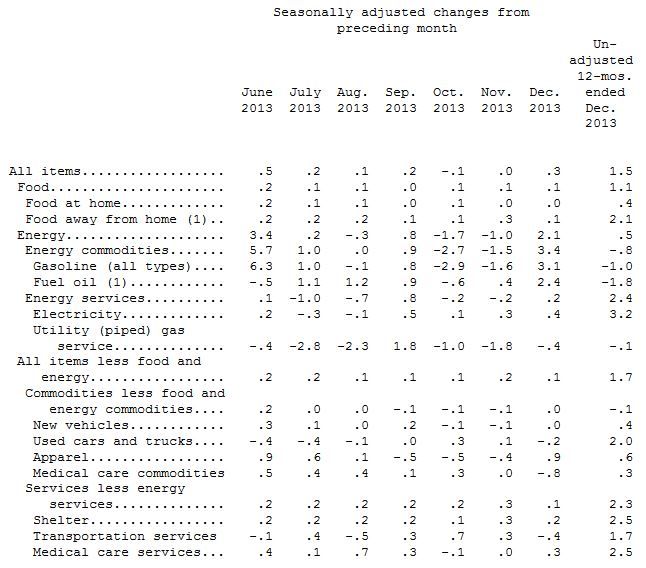 Bear in mind that the CPI does not include ALL items that make up a national economy.