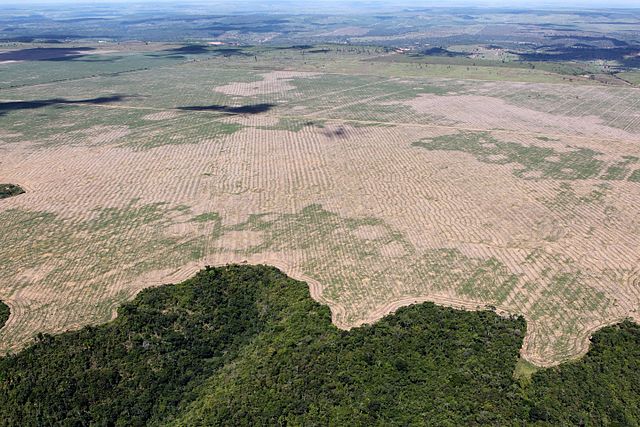 The US-China trade war could have a dramatic impact on deforestation of the Amazon rainforest, experts warn.
In 2018, the US imposed tariffs of up to 25% on Chinese imports worth US$250 billion. China retaliated by slapping tariffs of 25% on $110-billion worth of US goods, including soybeans.
China heavily depends on importing soybeans from three trading partners: Brazil, the US and Argentina. Since 2000, China has reduced its cultivation area by about a quarter as it is cheaper to import soy from its trading partners.
Last year, US exports of soybeans to China plunged by 50% – a consequence of the new tariffs. This huge US shortfall has put pressure on Brazil, the world's largest exporter of soybeans, to satisfy Chinese demand.
However, for Brazil to meet this demand there could be serious environmental consequences.
Deforestation of the Amazon rainforest could accelerate as Brazil hurries to create new cultivation areas for the crop to keep up with demand, according to a study from the University of Edinburgh and Karlsruhe Institute of Technology.
The researchers estimate that pressure to meet soybean demand could see Brazil increase its land used for crop production by up to 39%, to 13 million hectares, according to from the most recent (2016) data to the Food and Agriculture Organisation of the United Nations.
Richard Fuchs, a senior research fellow at the Institute of Meteorology and Climate Research, Atmospheric Environmental Research (IMK-IFU), Karlsruhe Institute of Technology, was quoted by Science Daily as saying:
"As a consequence of the trade war, we fear large-scale deforestation in Brazil. In the past, exponential increase in global soybean demand regularly led to deforestation in the Amazon rainforest to create new cultivation areas. In 2016, China imported 37.6 million tons of soybean from the US, which now have to be supplied by other producers. Brazil is the only country which could satisfy Chinese demand quickly enough."
While there are regulatory barriers to deforestation, the researchers warn that regulatory barriers and legal controls aimed at preventing the expansion of soya bean production in the Amazon have weakened. For example, earlier this year, Brazil's newly elected president, Jair Bolsonaro, transferred the regulation and creation of new indigenous reserves to the agriculture ministry.
"We urge the United States and China to adjust their trading arrangements immediately to avoid this catastrophe," the researchers said in their Nature article.
According to Science Daily, Fuchs added: "Ultimately, global meat consumption has to be reduced. Such a change will not be reached by appeals, campaigns to change consumer behavior, or eco-labeling of sustainable production. In our view, ecological consequential costs need to be included in food costs. Also bioenergy products, such as biodiesel, have to become more expensive."
Dr Peter Alexander, from the University of Edinburgh's School of Geosciences, commented: "Governments, producers, regulators and consumers must act now. If they don't, the Amazon rainforest could become the greatest casualty of the US-China trade war."
---
Related Journal Article
"Why the US–China trade war spells disaster for the Amazon"
Richard Fuchs, Peter Alexander, Calum Brown, Frances Cossar, Roslyn C. Henry & Mark Rounsevell
Nature 567, 451-454 (2019)
doi: 10.1038/d41586-019-00896-2
---