Delphi, the UK-based automotive parts manufacturing company, will embark on the first automated cross-country trip on Sunday.
One of its self-driving research vehicles will drive across the US from San Francisco to New York.
The 3,500 mile journey will be the first and longest coast-to-coast drive by an automated vehicle.
It is partly a huge publicity stunt but also a research project for the firm.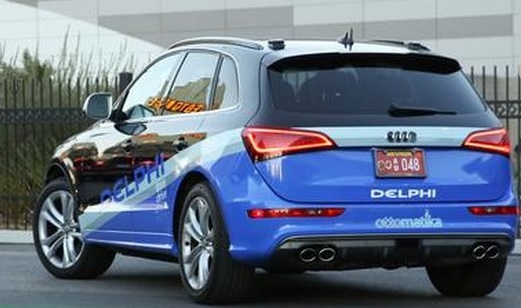 The Delphi Automotive PLC driverless-car is the vehicle that will embark on the trip.
Delphi's Chief Technology Officer Jeff Owens said that the test car has been tested on streets in California and Las Vegas.
The cross-country trip is the "ultimate test" though.
Jeff Owens said:
"Delphi had great success testing its car in California and on the streets of Las Vegas."
"Now it's time to put our vehicle to the ultimate test by broadening the range of driving conditions. This drive will help us collect invaluable data in our quest to deliver the best automotive grade technologies on the market."
"The vehicle will be challenged under a variety of driving conditions from changing weather and terrain to potential road hazards — things that could never truly be testing in a lab,"
The technology on board the Delphi Automotive PLC driverless-car
To make the trip possible the car features a full suite of technologies, including:
Radar, vision and Advanced Drive Assistance Systems (ADAS)
Multi-domain controller: High-end microprocessor to seamlessly drive multiple features and functions
V2V/V2X: Wireless vehicle communication technology extends the range of existing ADAS functionality
Intelligent software that enables the vehicle to make complex, human-like decisions for real-world automated driving
Delphi's active safety technologies allow the car to quickly make complex decisions, such as when to stop and then go at a four-way stop, merging on a highway, and determining the safest maneuver around a bicyclist on a city street.