Tiffany's & Co expects weak performance in the quarter ending April, announcing on Friday that sales are forecast to drop by 10 percent.
Its stock fell by 3% after the announcement was made.
In its Q4 2014 earnings report the company posted a 1 percent drop in sales for the quarter ending on January 31st. Most analysts had expected an increase in Tiffany's sales in the fourth quarter.
Tiffany's fourth-quarter revenue was $1.29 billion.
Net earnings for the year ended January 31 2015 was $484.179 million compared to $181,369 the previous year (because of a large legal charge).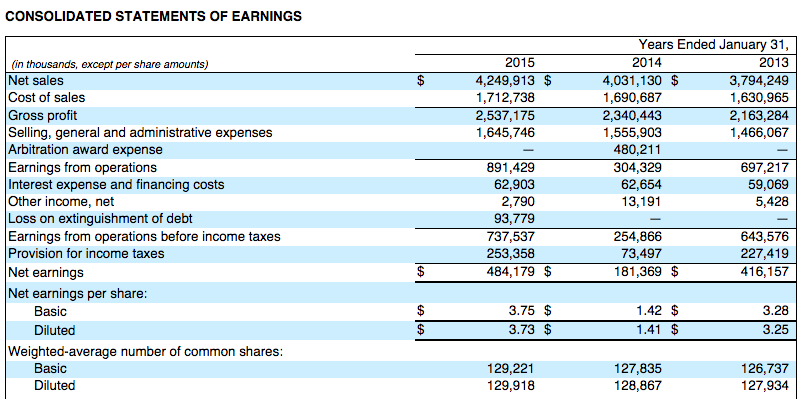 Source: "Tiffany & Co. Form 10K for the fiscal year ended January 31, 2015"
Despite good financial results in 2014, the company expects for there to be some challenges this fiscal year.
A strong dollar is having a negative impact on its sales
Sales from tourism is expected to suffer because of the increasing value of the dollar, and tourist purchases accounts for roughly a quarter of the firm's sales in the US.
Chief Financial Officer Ralph Nicoletti said, "Tourist purchases are expected to continue to be pressured in the Americas".
Company expects for there to be a rebound in last two quarters of the year
Despite expecting a fall in profit, Tiffany's does believe that it will achieve some growth this year.
It expects profit to stabilize in the last two quarters of the year.
However, analysts are skeptical about how the company will rebound as it has not explained why it expects sales to increase in those last two quarters.
Tiffany's plans on increasing the number of company-operated stores 
In a conference call that took place on March 20, 2015, 08:30 AM ET, Frederic Cumenal, President of the company, said:
"First I believe we achieved good financial results in 2014 but certainly finished the year on a disappointing note primarily in the Americas. While we know about the unavoidable challenges arising from the strong U.S. dollar we can and will be nimble in fine-tuning product development and marketing communications."
Mark Aaron, Vice President of Investor Relations, said:
"We are currently planning to increase our company-operated stores by a net of approximately 12 to 15 stores during 2015. A majority of that net addition is planned in Asia-Pacific with the balance in the Americas and Europe. In total this will represent a 4% to 5% net increase in our company-operated store base and in worldwide square footage."