Richard III was buried in a hastily dug grave in 1485 in Leicester, England. On Sunday, March 22, 2015, he will be getting a proper funeral. Sunday kicks off with fireworks, choirs and processions for a week of events to celebrate the reburial (reinterment) of the King whose death marked the end of the Middle Ages in England.
At 10:50 GMT his lead-lined oak coffin will make its first public appearance as it leaves the building where University of Leicester scientists had been studying his remains.
The procession will reach the Bosworth battlefield where King Richard died in battle on August 22nd, 1485, at the age of 32.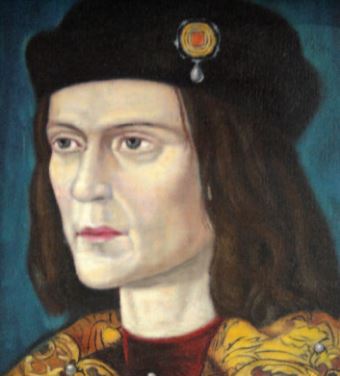 King Richard III 1452-1485 (Image: Leicester City Council)
His coffin will then be taken to Leicester Cathedral at 17:35 GMT, his final resting place. First, there will be a service at St. Nicholas Chruch.
Leicester police, who warn of disruption to roads and car parks, say they are expecting thousands of visitors to descend on the city.
As the cortege travels towards the Cathedral, ceremonies are due to take place at Bosworth Battlefield Heritage Centre and the medieval city boundary Bow Bridge.
According to the council, the best places to see the cortege will be from the High Street, outside Curve Theatre, or Gallowtree Gate.
Giant screens have been put up at Jubilee Square and the Clock Tower where members of the public can see the procession live.
City Mayor Peter Soulsby, who is trying to encourage people to use public transport, said it would be a "breathtaking event".
"We are expecting large numbers of people to want to pay their respects in a dignified manner to King Richard and the journey of his cortege into the city will give people the chance to do that," he said.
Leicester City Council said rolling road closures will be in place on Sunday along the route of the procession. Hinckley Road will be closed from its junction with Narborough Road from 3pm, St. Augustine Road will be closed from 3.30pm, St. Nicholas Circle will be closed from 4pm. Southgates underpass will stay open.
At 4pm, the A47 at Leicester Forest East to Leicester city centre will be closed.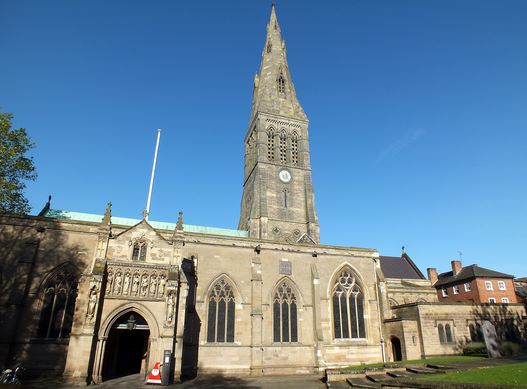 King Richard III will be laid to rest at Leicester Cathedral.
Richard III
In August 1485, on learning that Henry Tudor had landed in Wales and intended to claim the throne, King Richard gathered his armies in Leicester and rode out to fight in what became known as the famous Battle of Bosworth Field – the last battle of the War of the Roses.
Richard fought bravely to defend his crown, but died in battle and Henry Tudor became King of England.
Richard died at the age of 32; he had only been King for two years. Historians say he was a brave and brilliant soldier, and a fair-minded administrator.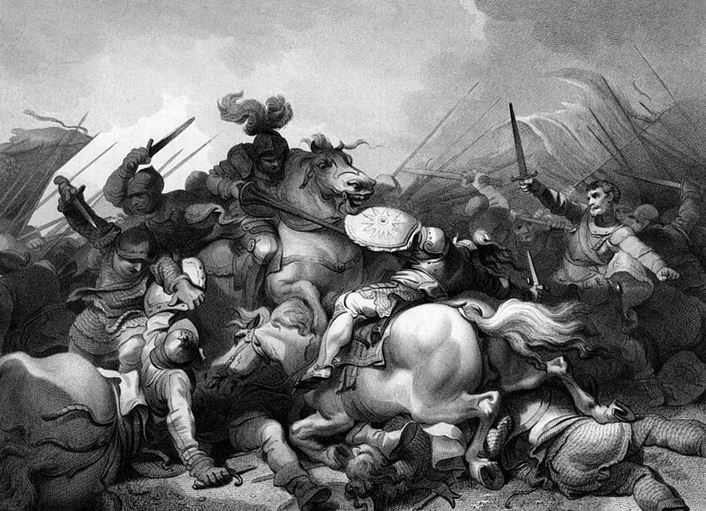 Battle of Bosworth, as depicted by Philip James de Loutherbourg (Image: Wikipedia)
After he died, however, his reputation was blackened by the Tudors.
In August 2012, about five centuries later, Leicester City Council, the University of Leicester and the Looking For Richard Project formed a partnership to search for Richard's grave.
The remains of a body were excavated from the ruins of the medieval Greyfriars. DNA testing matched the remains with Richard's modern descendants, i.e. Richard's body had been found.
Leicester City Council writes in its website:
"The identification of King Richard III was just the beginning; there began a long process from which, eventually, Leicester Cathedral was identified as the final resting place for the King."
"In March 2014, King Richard III will finally be laid to rest – less than 100 steps from where he had been placed by history."
William Shakespeare wrote a historical play called Richard III, believed to have been written in 1592. In the play is the famous phrase "A horse, my kingdom for a horse!" which he uttered just before he was killed.