Digital advertising is forecast to finally overtake print and TV advertising in the US for the first time this year, according to eMarketer.
Companies are projected to spend an estimated $130 billion on digital ads this year, compared with approximately $110 billion on traditional advertisements.
Mobile is expected to account for two-thirds of digital ads this year, totaling $87.06 billion.
The research firm believes that spending on digital ads to continue to outpace spending on traditional ads, with digital ad spending forecast to account for over two-thirds of all media spending by 2023.
Unsurprisingly, most digital ad money this year will go to Google and Facebook. However, the combined share of Google and Facebook will drop, according to estimates.
Google's share of the market is forecast to drop from 38.2% last year to 37.2%, while Facebook's share is expected to fall from 22.1% last year to 21.8%.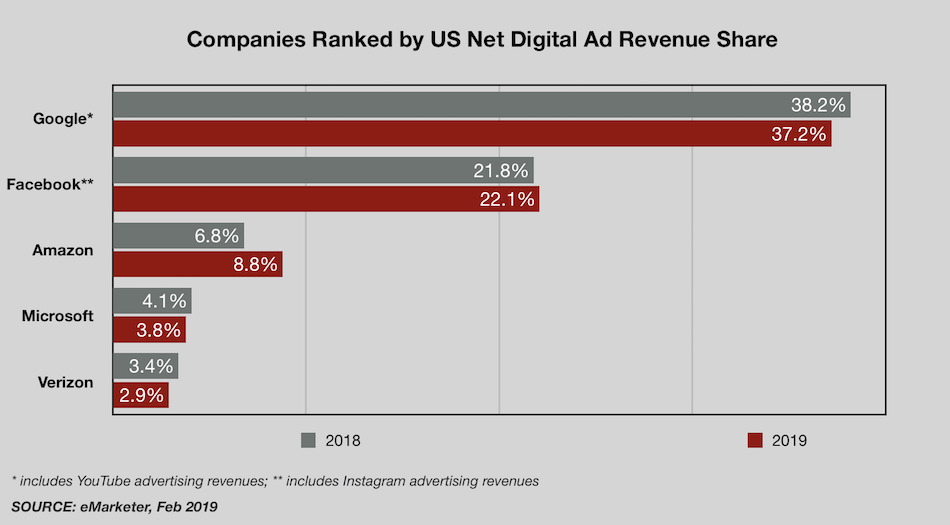 Amazon's advertising business, the third largest in the US, is projected to grow by more than 50 percent this year, capturing 8.8% of the market this year.
"Amazon offers a major benefit to advertisers, especially CPG and direct-to-consumer [D2C] brands," said eMarketer forecasting director Monica Peart. "The platform is rich with shoppers' behavioral data for targeting and provides access to purchase data in real time. This type of access was once only available through the retail partner to share at their discretion. But with Amazon's suite of sponsored ads, marketers have unprecedented access to the 'shelves' where consumers are shopping."
The research firm said it made its projections higher for Amazon this year after the company's better-than-expected earnings report. It is now "on track to close the gap with No. 2 Facebook" in the digital ad market.
Traditional ad spending
According to eMarketer projections for 2019:
Ad spending on directories, such as the Yellow Pages, will decline by 19%. 

Traditional print ad spending will fall by nearly 18%.

TV ad spending will decline 2.2% to around $70.83 billion.
"The steady shift of consumer attention to digital platforms has hit an inflection point with advertisers, forcing them to now turn to digital to seek the incremental gains in reach and revenues which are disappearing in traditional media advertising," Peart said.
.