Walt Disney Co posted better-than-expected fourth quarter profits as its television channels generated higher advertising revenue and its parks and resorts saw increased guest spending and attendance.
The company's fourth quarter net income increased to $1.61 billion, or 95 cents per share, from $1.50 billion, or 86 cents per share, the previous year. Excluding certain items affecting comparability earnings per share for the quarter increased 35% to $1.20 from $0.89 in the prior-year quarter.
Revenue rose to $13.51 billion in the three months ended Oct. 3, about 9% higher compared to the same period last year, but just shy of what analysts surveyed by FactSet had predicted of $13.55 billion.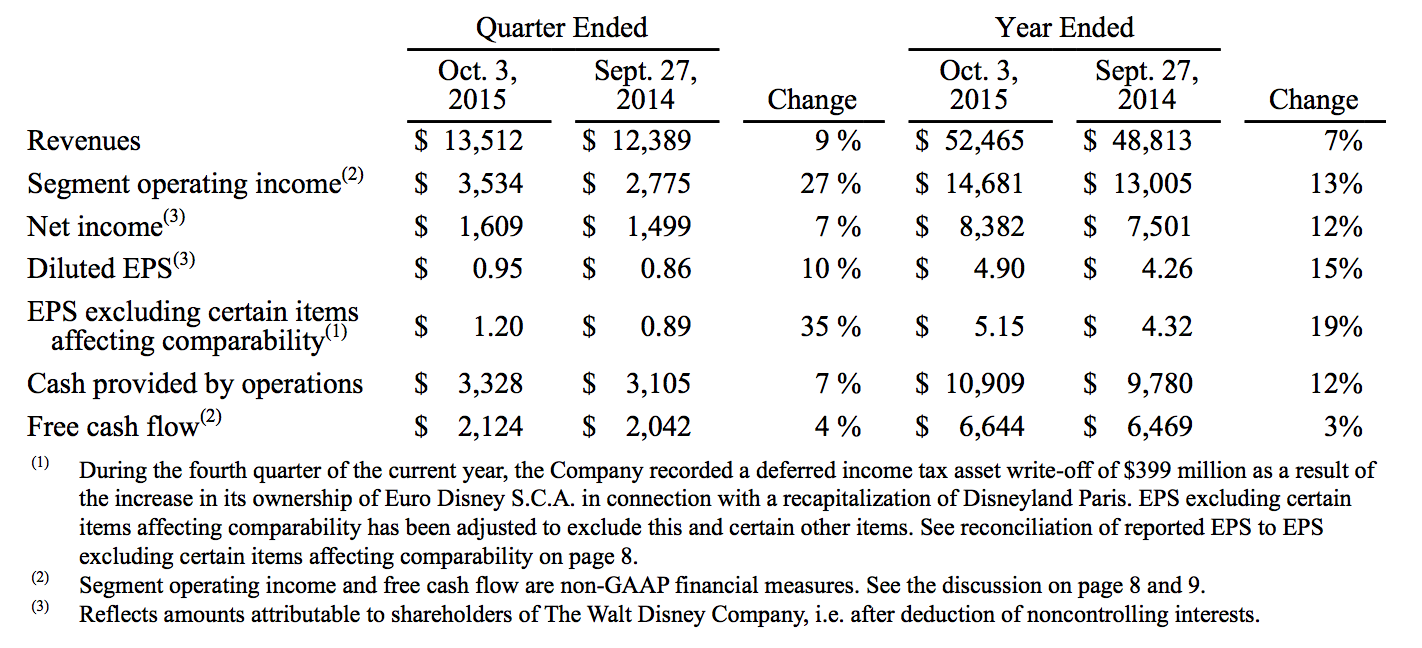 Source: Walt Disney Co.
Operating income at the company's media network's business, which includes ESPN, the Disney Channels and ABC, rose 27% from the prior-year quarter up to $1.8 billion, while revenue was up 12% to $5.8 billion. The increase was driven by ESPN's higher affiliate and advertising revenue, as well as a boost in subscribers.
Parks and Resorts revenues for the quarter increased 10% to $4.4 billion, and segment operating income increased 7% to $738 million.  This increase was driven by higher guest spending, attendance, and occupancy at its US operations.
Studio Entertainment reported operating income of $530 million on$1.8 billion in sales.
Consumer Products revenues for the quarter increased 11% to $1.2 billion, driven by the performance of Star Wars Classic, Avengers and Frozen merchandise.
Disney Chairman and Chief Executive Bob Iger said in a statement that the company had "a strong quarter."
"In Fiscal 2015 we delivered the highest revenue, net income and adjusted EPS in the Company's history,reflecting the power of our great brands and franchises, the quality of our creative content, and our relentless innovation to maximize value from emerging technologies."