All those fires that plagued Boeing's Dreamliner aircraft were blamed on the company itself by the National Transportation Safety Board (NTSB). The NTSB concluded that one incident was due to Boeing's deficiencies in the design and certification process.
The fire in a lithium-ion battery installed in a Dreamliner that had just completed an intercontinental flight from Boston, was caused by "shortcomings in design and certification," the NTSB specified in its final report on the incident.
In January 2013, ground workers reported smoke and flames coming from an auxiliary power unit lithium-ion battery installed in a Japan Airlines Dreamliner that was stationary at the gate at Boston Logan International Airport. None of the 183 passengers and 11 crewmembers, who had already disembarked, were injured. GS Yuasa Corporation had manufactured the battery.
Initially, the NTSB said the fire started after there was a short circuit in one of the battery's eight cells, which led to thermal runaway of the cell, which spread to the remaining cells causing full battery thermal runaway. "This condition caused smoke and flammable materials to be ejected outside the battery's case and resulted in excessive heat and a small fire," NTSB wrote.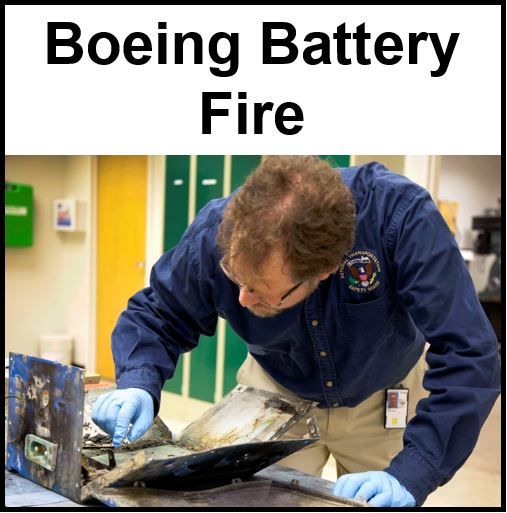 NTSB Engineer Matt Fox examining the casing from the battery involved in the January 2013 Boeing 787 fire incident. (Photo: NTSB)
NTSB Acting Chairman Christopher A. Hart, said:
"The investigation identified deficiencies in the design and certification processes that should have prevented an outcome like this. Fortunately, this incident occurred while the airplane was on the ground and with firefighters immediately available."
Because the APU and main lithium-ion batteries installed on the Dreamliner represented new technology, which had not been adequately addressed by existing regulations, the FAA (Federal Aviation Administration) ordered Boeing to demonstrate compliance with special conditions to make sure that the battery was safe for use on a passenger-carrying plane.
In a statement on Monday, NTSB wrote:
"Investigators said that Boeing's safety assessment of the battery, which was part of the data used to demonstrate compliance with these special conditions, was insufficient because Boeing had considered, but ruled out, cell-to-cell propagation of thermal runaway (which occurred in this incident) but did not provide the corresponding analysis and justification in the safety assessment."
Consequently, the risk of cell-to-cell propagation of thermal runaway was not comprehensively examined by Boeing and FAA engineers, which meant this safety hazard went undetected by the certification process.
The NTSB now recommends that the FAA improve the guidance and training provided to the industry. Guidance on training should also be improved by FAA certification engineers on safety assessments and methods of compliance for designs involving novel technology.
Mr. Hart said:
"Through comprehensive incident investigations like this one, safety deficiencies can be uncovered and addressed before they lead to more serious consequences in less benign circumstances."
NTSB investigators say they have identified some design and manufacturing concerns that may have led to internal short circuiting within a cell.
The NTSB has made 15 safety recommendations to the FAA, one to GS Yuasa, and two to Boeing, as a result of its investigation.
Mr. Hart said:
"The aviation industry is continually benefitting from technological advances, and we are hopeful that the lessons learned in this investigation will further enhance the industry's ability to safely bring those innovative technologies to market."