The Russian Economy Ministry warns that the country is likely to slide into recession in 2015, and may shrink by 0.8%. It had previously predicted that GDP would grow by 1.2% next year. Most European economist define a recession as two successive quarters of economic contraction.
The country's economy is suffering from a decline in oil prices, weakened demand from China, and economic sanctions from the EU, US and other allies who accuse it of arming separatist rebels in Ukraine.
More than half of Russia's tax revenues come from the oil and gas industry. Given that oil prices have fallen by nearly 40% since their June peak, the country's is facing a dire near-term future.
Russian authorities predict that in 2015 household disposable incomes will fall by up to 2.8%. Earlier this year, they had been forecasting growth of about 0.4%.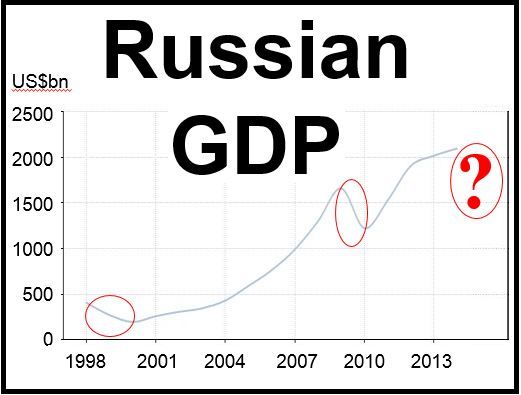 Russia appears to be entering its third economic slump since 1998. (Chart: Trading Economics)
This is the first time the Russian government has publicly admitted that in 2015 its GDP is likely to shrink.
Deputy Prime Minister Alexi Vedev said "The current prognosis is based on a drop in GDP by 0.8% in 2015, against the previous prognosis of growth by 1.2%."
Increasing inflation and declining ruble
The Economy Ministry expects inflation to reach 7.5% by the end of this year, which is higher than its previously forecast of 5% to 6%. Most Western European and North American economist estimate the inflation rate will be nearer 10%.
Mr. Vedev said falling oil prices are weighing on the ruble. "The fall in oil prices has caused a significant weakening of the ruble's exchange rate, which gives rather strong inflationary effect. And higher inflationary pressure reduces the purchasing power of the population, which reduces consumption," he added.
Capital flight to continue apace
The Ministry also expects capital flight to be a persistent problem in Russia. Net capital outflows are predicted to reach $125 billion in 2014, rather than $100 billion (previous forecast). In 2015, it expects about $90 billion to leave the country, and not its previously predicted $50 billion.
Capital flight refers to money flowing out of a country in huge quantities.
Most private companies and foreign economists have been warning for weeks that the Russian economy is either already in recession or about to fall into one, and that 2015 does not bode well for the country.
The steep fall in oil prices, plus news last week that OPEC decided not to cut production, pushed the ruble down on Monday to a record low of 54 to the US dollar. This was the last straw for any die-hard optimists in much of the Russian government.
The Finance Ministry, in an attempt to hold onto the last remnants of hope, said today that the Economy Ministry's forecast was "too gloomy" and will likely be revised upward soon.