America's third largest wireless network operator Spring Corporation says it will reduce the monthly rate plan of AT&T and Verizon customers who switch over by 50%, starting on December 5th.
In the "Cut Your Bill in Half Event," Sprint pledges to provide customers with unlimited talk and text anywhere in the United States while on the Sprint network, no matter what what type of current plan they were on. It will also match the customer's data allowance but charge only half the cost they currently pay on their monthly rate plan.
Sprint CEO Marcelo Claure said:
"The Cut Your Bill in Half Event clearly demonstrates that Sprint delivers the best value in wireless. It's as simple as this: Bring Sprint your Verizon or AT&T bill along with your phone and we'll cut your rate plan in half."
"That's a 50 percent savings on your rate plan every month. And this great deal is not just a promotion. This will be the customer's ongoing price."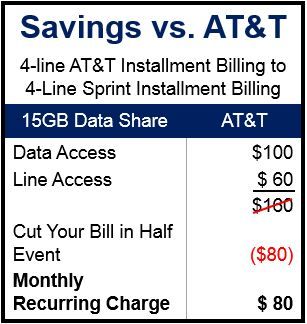 How will AT&T respond to this challenge? (Data from Sprint)
As from December 5th, AT&T and Verizon customers wishing to switch over to Sprint are invited to do the following:
1. Upload a copy of their current bill at sprint.com/halfprice.
2. Bring a copy of their latest bill and all of the phones on their AT&T or Verizon account to turn in to their Sprint store.
3. With the help of a Sprint representative, the ideal service plan that best matches their current AT&T or Verizon package will be selected.
4. The customers then get their new phones with one of Sprint's leasing options, Sprint Easy Pay installment billing, or pay full retail price for the phone.
Sprint says it will also pay AT&T and Verizon customers on a contract up to $350 per line via a Visa Prepaid Card for their early termination fee or installment bill balance when they switch over. "Once a customer has received the final bill from the other carrier, he or she may simply register for the Visa Prepaid Card at sprint.com/jointoday," the company explained.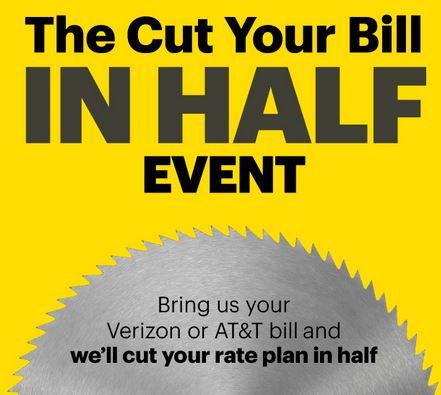 The 50% off rate from Sprint will be based on the monthly voice, text and data plan charge for all lines on the customer's AT&T or Verizon bill. For example, if you are paying $150 per month for four lines of service and get the same from Sprint, it will cost you $75 per month. As long as you remain in the plan, you are entitled to the half-off rate.