Within three hours of the opening of the Dubai Airshow, orders worth $162.6 billion were placed, a record for any airshow.
Several companies announced orders straight away, including Emirates Airline, Qatar Airways, FlyDubai and Etihad Airways.
Etihad Airways, a Dubai-based company, placed a $25.2 billion order for 56 new Boeing 777s, including related GE engines.
Etihad also placed an order for 30 Boeing 787-10 Dreamliners. Etihad is now Dreamliner's largest customer.
Etihad Airways is also placing orders for the 777-8X which should enter service by 2020.
President and CEO of Etihad Airways, James Hogan, said "We rarely make announcements at air shows, but when we do the world listens."
Emirates Airline, also a Dubai-based company, placed a $99 billion order for 150 Boeing 777Xs + 50 purchase rights, as well as 50 more Airbus A380 superjumbos. According to aviation analysts, this is the largest aircraft order ever in civil aviation history.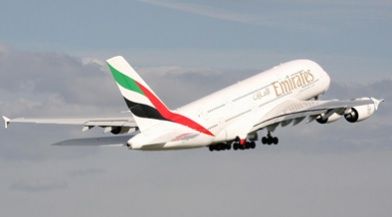 Emirates Airline has the world's largest fleet of Airbus A380 superjumbos.
FlyDubai, a low-cost passenger airline, ordered 111 Boeing 737s and 738s valued at $11.4 billion.
Qatar Airways signed a $19 billion letter of intent for fifty-four Boeing 777s.
Sharief Fahm, Chief Executive of F&E Aerospace, the organizers of the Dubai Airshow, said:
"Well it may have been yet another opening, but it certainly is not just another show. This has been an extraordinary opening morning for an event that has gone beyond expectations."
"If there was anyone left in the aerospace industry who had not recognised the undeniable importance of this region, this morning removed all doubt. We are in the centre of a region with the world's fastest-growing aviation infrastructure, fastest-growing airlines and a region where security commitments are in focus."
The Dubai Airshow
The Dubai Airshow, which started in 1989, is held every two years in Dubai, the United Arab Emirates.
The event is organized by F&E Aerospace in cooperation with the Dubai Government, Dubai Airports, the Dubai Civil Aviation Authority, and the United Arab Emirate Armed Forces.
The Dubai Airshow started off with 200 exhibits and 25 airplanes, and grew to 960 exhibits and 125 aircraft in its last show in 2011.
Experts say the Dubai Airshow is the world's fastest-growing airshow.