Thirty-one percent of college graduates in the United States never find a job related to what they studied, and 47% say their first job had nothing to do with what they majored in, according to a report by CareerBuilder.
Although choosing one's college major is an important life decision, it may not necessarily define a person's career path, the Harris Interactive national survey found. A total of 2,134 people from a wide range of industries and company sizes were interviewed. All of them had college degrees.
Rosemary Haefner, vice president of Human Resources at CareerBuilder, said:
"A college education will give you a significant advantage in the job market. In a tough economic climate, college graduates must be flexible and open to taking positions outside their area of study. Taking the knowledge gained in college and branching out with it in unexpected directions is common after graduating."
"In most cases, workers who went into a new field ended up liking the new industry. Odds are you won't get that dream job right out of school, but it's important to remember that there are many different paths."
Sixty-four percent of college graduates said they were happy with the degree they had chosen to study, while sixty-one percent still had faith they would eventually find their dream job.
College graduates in a difficult job market
When asked whether demand for jobs in their degree subject had risen or fallen between the time they started studying and the day they graduated:
28% said demand had gone down.
13% said demand had risen.
59% said there had been no change.
Among those who said employment demand for their degree subject had fallen during their course, 33% had to accept poorer paying jobs outside their field, while 32% reported not being able to find any job soon after graduating.
Forty-six percent of respondents whose specific job market declined during their degree course did manage to find employment in their field within twelve months, and 58% within 24 months.
College graduates earn more and find jobs more easily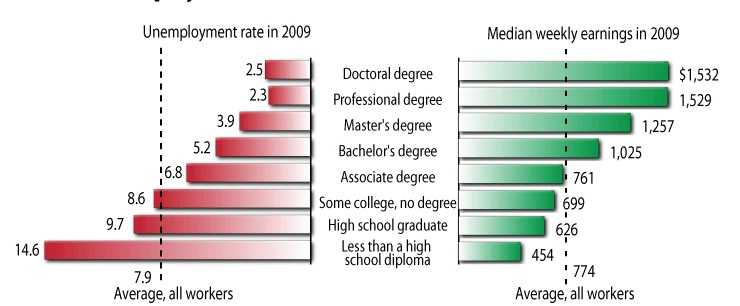 Source: Bureau of Labor Statistic. Current population survey.