Dutch credit rating has fallen from AAA to AA+, according to credit-rating agency Standard and Poor's (S&P), due to "weak growth prospects".
Over the last couple of years several countries have been kicked out of the AAA club, including the USA, UK, Austria and France. After the Dutch credit rating cut, the only Eurozone countries with an AAA rating are Germany, Finland and Luxembourg.
Only Finland has a stable AAA status with all three rating companies (S&P, Moody's and Fitch).
S&P says it lowered the Dutch credit rating because "The Netherlands' growth prospects are now weaker than we have previously anticipated, and the real GDP per capital trend growth rate is lower than that of peers at similarly high levels of economic development."
However, despite a more challenging ordeal in achieving its fiscal targets, the credit agency believes consensus within the country regarding containing public debt and deficits will continue.
S&P says it has assigned a stable outlook to The Netherlands' long-term ratings.
S&P expects real GDP in The Netherlands to grow by 0.5% in 2014 after shrinking by a projected 1.2% this year. Growth is forecast to reach 1.5% in 2015.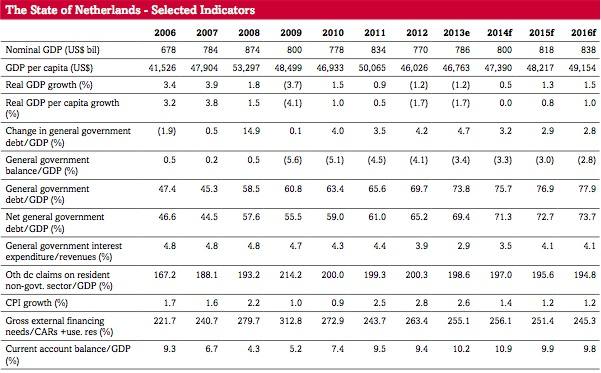 Source: Standard and Poor's

Weak domestic demand to persist into 2015
It will not be until 2017 that Dutch GDP reaches its 2008 level, the agency predicts. Despite strong export growth, it has not been able to fully offset weak domestic demand.
While average real consumption and investment growth declined during the 2009-2013 period, S&P sees private consumption stagnating through 2014 and well into 2015, despite the ECB's (European Central Bank's) accommodative monetary policy.
High household debt and falling property prices have undermined consumer spending. At the end of June this year, household indebtedness stood at 110% of GDP, while house prices have dropped 20% from their peak. S&P sees house prices continuing to fall in 2014.
Approximately 1 in every 6 households in the Netherlands has a mortgage debt higher than the value of their home, according to data from the Dutch National Bank.
Dutch credit rating and rising unemployment
Consumer confidence, the main driver behind domestic spending, may be further dampened by rising unemployment rates. According to the European Commission, Dutch unemployment will reach 8% in 2014; in 2009 it was below 4%.
The Dutch government's reduced spending has hampered growth, says S&P. Although capacity utilization is improving, it is still less than 80%, compared to an 85% long-term average. Until confidence and demand fully return, there is unlikely to be a "meaningful and sustained turnaround in investment".
The Dutch government needs support from the opposition in the Senate for the adoption of the 2014 budget and an additional €6 billion of consolidation measures. S&P writes "Future opposition support is not a foregone conclusion. Discussions about further consolidation measures – should they be needed – could become increasingly fraught while weak growth persists."
In 2013, the deficit is expected to be 3.4% of GDP, including the impact of the nationalization of SNS REAAL in early 2013 (a troubled bank). S&P believes the country will achieve its 3% target by the end of 2015.
However, fiscal space is becoming more and more limited. The government's net debt is expected t reach 71% of GDP next year. S&P added "We do not expect the cost of debt service to meaningfully increase".
Finance Minister, Jeroen Dijsselbloem, said he was disappointed with the Dutch credit rating relegation, given that the country has just come out of a long recession.
In an interview with CNBC, Dijsselbloem said:
"We're a country where we have a strong structural base but we have a number of issues to deal with. This confirms the need to push forward with some of the reforms."