Earth Hour 2016 was celebrated across the world on 19th March from 8.30pm to 9.30pm. The event, organised by the World Wildlife Fund (WWF), involves switching off all non-essential lighting for one hour.
In the UK, Buckingham Palace, Big Ben & the Houses of Parliament, Brighton Pier, Edinburgh Castle, the Old Trafford, and hundreds of landmarks across the country went dark.
Earth Hour has been an annual event ever since 2007, when the lights went off in Sydney, Australia. Today, over 7,000 towns and cities globally take part in what has become a huge movement.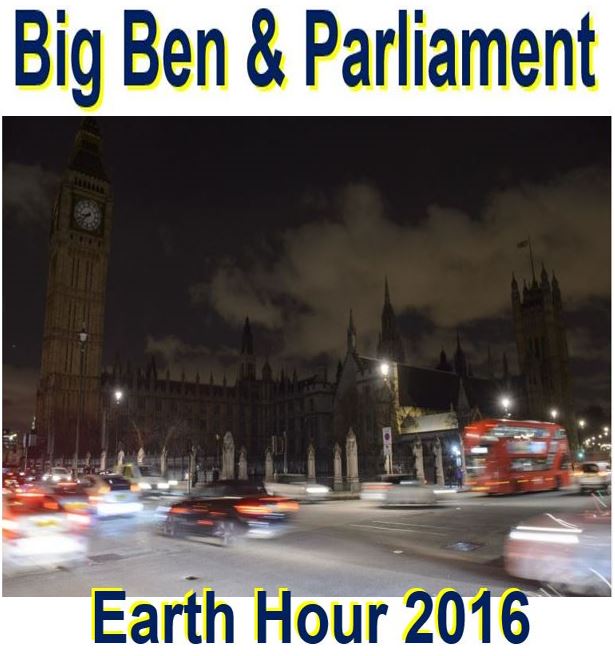 Hundreds of landmarks, public buildings, offices, factories and private homes went dark for one hour in the UK yesterday. (Image: earthhour.wwf.org.uk)
The movement aims to be a show of solidarity by people in this planet to acknowledge and confront climate change – it is a call for action.
Much of the global warming that is occurring, and is set to continue for the rest of this century, is the result of electricity generation, which emits greenhouse gases into the atmosphere, resulting in a warmer planet, rising sea levels, more extreme weather events, and the extinction of thousands of animal and plant species.
---
---
Famous landmarks, businesses, government offices, and private households switched their lights off yesterday for one hour. Millions of people worldwide, according to media reports, ate their diner by candle light, cycled around London, had a nap, slept, or decided to unwind and took a candlelit batch.
The WWF says it wants to hear from people. "Share your pictures with us on Twitter, Facebook and Instagram using #EarthHourUK. You never know, you might end up inspiring someone else to join in!"
Yokohama, Japan – lights on and off. Cities can look so different when the lights go out! (Images: 1. Lights on earthhour.wwf.org.uk. 2. Lights off earthhour.wwf.org.uk)
Sixty things you can do in the dark
The WWF has a web page with sixty suggestions for things we can do when it goes dark. Here are some of them:
– Have a sensory party: an event where people find out who has the most acute senses, by seeing what they can taste, feel, touch and hear in the dark.
---
---
– Have a street party: this could be a candlelit one with friends and neighbours. How many of us don't know all our neighbours? Well, here's your chance!
– Candlelit dinner party: ask your friends to come round, or just enjoy it as a family gathering. In today's society, families need to sit down together and break bread more often, like our grandparents used to every day.
– A wine-tasting evening: gather all your friends, and see who is best at identifying different wines.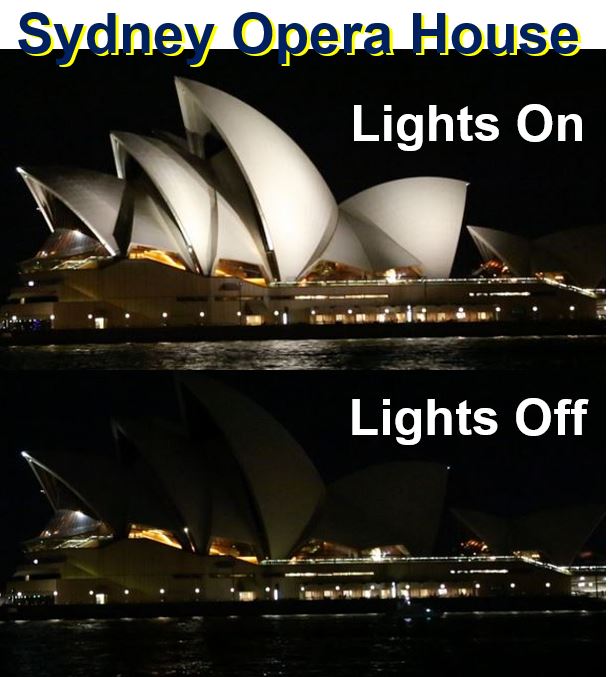 Sydney Opera House in Australia, where the Earth Hour movement started in 2007. (Images: 1. lights on earthhour.wwf.org.uk. 2. Lights off earthhour.wwf.org.uk)
– A book club meeting: sit down by candlelight and discuss your latest good read.
– Catch up: visit or call somebody you have been meaning to catch up with, and enjoy one hour with them.
– Confessions by candlelight: if you feel like telling all, now is your chance. Turn off all the lights and confess your hidden secrets.
Final picture from #EarthHour2016! Hope you enjoyed! #VegasWeather #Earthhour @earthhour pic.twitter.com/kjol27eA33

— NWS Las Vegas (@NWSVegas) 20 March 2016
– Stargazing: if it's a clear night and you live in a lit up urban area, conditions will be ideal to look at the stars. There will be much less light pollution. Get out your telescope and stargaze with family and friends.
– A candlelit bath: a whole hour to unwind by candlelight. You do not necessarily have to do this on your own!
– Have a 1-hour power nap: or have an early night and wake up the next day feeling super-refreshed.
– Tell children spooky stories: like people do around a camp fire. Make sure the very small ones don't get super spooked.
– A photo album session: gather the whole family and go through all your photo albums with them.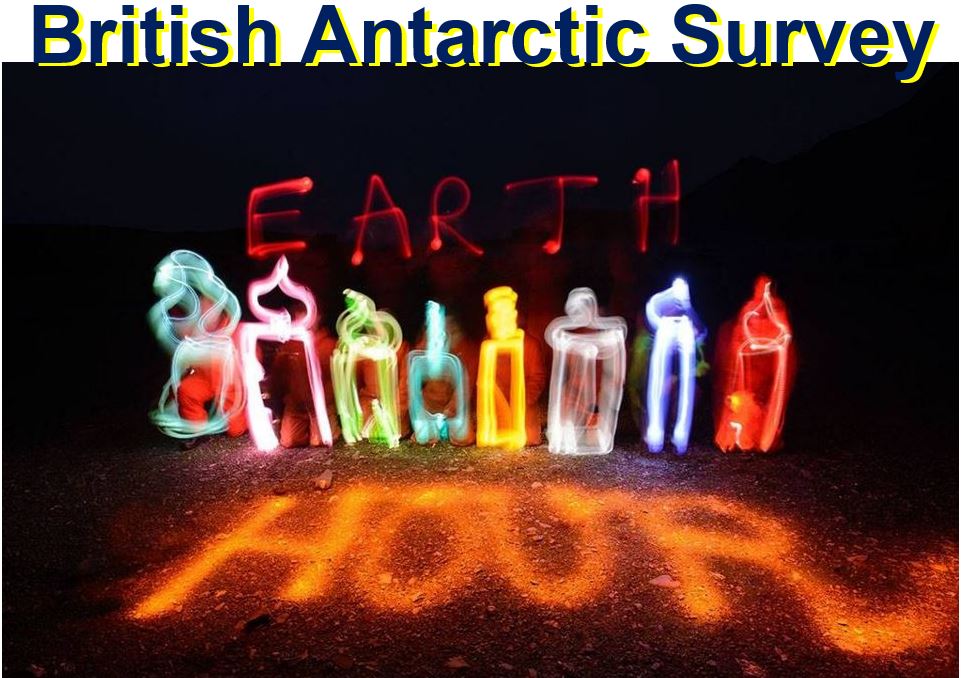 The 400 staff at the British Antarctic Survey took part in Earth Hour. (Image: earthhour.wwf.org.uk. Credit: Alastair Wilson)
British Antarctic Survey
Literally every corner of our planet celebrated Earth Hour in some way. The British Antarctic Survey (BAS), the UK's national Antarctic operation, which has an active role in Antarctic affairs, including reporting on the melting of ice in the region, celebrated the global event, as you can see in the photograph above.
BAS is part of the NERC (Natural Environmental Research Council) and has more than 400 staff. It operates at five research stations, and also has five aircraft and two ships around Antarctica.
British Antarctic Survey scientists, along with hundreds of experts across the globe, warn that if we do not take drastic action now on a global scale, the ice in the North and South Poles and surrounding areas will continue melting at an accelerated rate, resulting in higher sea levels and devastation for low-lying regions of the world, such as the Netherlands, Florida and Bangladesh.
Video – Earth Hour 2016 at a Glance
According to earthhour.org: "On Saturday 19 March 2016, as WWF's Earth Hour rolled across the world from Samoa to Santiago, millions came together to shine a light on the climate action our planet needs. Watch how the movement united individuals, communities, organizations and landmarks in an unprecedented 178 countries and territories to change climate change"