Eaton Corporation is an American multinational provider of power management solutions, based in Dublin, Ireland.
The company is publicly listed on the New York Stock Exchange (NYSE) under the stock ticker symbol 'ETN'.
Eaton Corporation sells its products to customers in over 175 countries.
Its mission is "to provide safe, reliable, efficient and sustainable power management solutions for our global customers."
Eaton's products and services line includes:
Electrical – circuit breakers, vacuum breakers, surge protection devices, power distribution assemblies, motor starters, engineering systems and diagnostic and support services, metering systems, operator interface hardware, power management software, and uninterruptible power systems.
Hydraulics – hydraulic systems and components for use in mobile and industrial applications. This segment of the company also includes Eaton's Golf Grip, Filtration, and Airflex industrial clutch and brake businesses.
Aerospace – fuel systems, propulsion sub-systems, hydraulic systems, motion control systems and cockpit interface and circuit protection applications.
Vehicle – manual and automated truck transmissions and clutches, hybrid powertrain systems, traction control systems, anti-lock braking, vehicle diagnostics, automotive fluid connectors, cylinder head modules, superchargers, and engine valves and lifters.
Despite having its corporate head office in Ireland, the company's operational headquarters are located in Ohio, USA.
Eaton was founded in 1911 by Joseph O. Eaton and his brother-in-law Henning O. Taube and Viggo V. Torbensen under the name Torbensen Gear and Axle Co. It initially focused on manufacturing its patented internal-gear truck axle. In 1932 the company was more diversified and it changed its name to Eaton Manufacturing Company.
Overview
Chairman and CEO: Alexander M. Cutler
CFO: Richard H. Fearon
Type: Public
Industry: Power Management Solutions
Traded as NYSE:ETN
S&P 500 Component
Revenue: $22.046 billion USD (2013)
Net income: $1.873 billion USD (2013)
Diluted earnings per share: $3.90 USD (2013)
Founded: 1911
Founder(s): Joseph O. Eaton, Henning O. Taube and Viggo V. Torbensen
Employees: 101,000 (2013)
Corporate headquarters: 25-26 Fitzwilliam Hall, Fitzwilliam Place Dublin 2, Ireland
Corporate contact number: +1 888.328.6647
Website: http://www.eaton.com/
---
Operating data (in $ millions)

2013

2012

Net sales
$22,046
$16,311
Cost of products sold
$15,369
$11,448
Selling and administrative costs
$3,886
$2,894
Research and development
$644
$439
Income before income taxes
$1,884
$1,251
Income tax expense
$11
$31
Net income
$1,873
$1,220
Net income attributable to Eaton shareholders
$1,861
$1,217

Comprehensive income attributable to Eaton shareholders

$2,265
$1,217
Balance sheet data (in $ millions)
Total assets
$35,491
$35,810
Long-term debt
$8,969
$9,765
Total Eaton shareholders' equity
$16,791
$15,113
Cash flow data (in $ millions)
Net cash provided by operating activities
$2,285
$1,664
Net cash used in investing activities
$(202)
$(6,972)
Net cash provided by (used in) financing activities
$(1,736)
$5,480
Cash and cash equivalents at end of period
$915
$577
Common share data (in $)
Basic earnings (loss) per ordinary share
$3.93
$3.54
Diluted earnings (loss) per ordinary share
$3.90
$3.46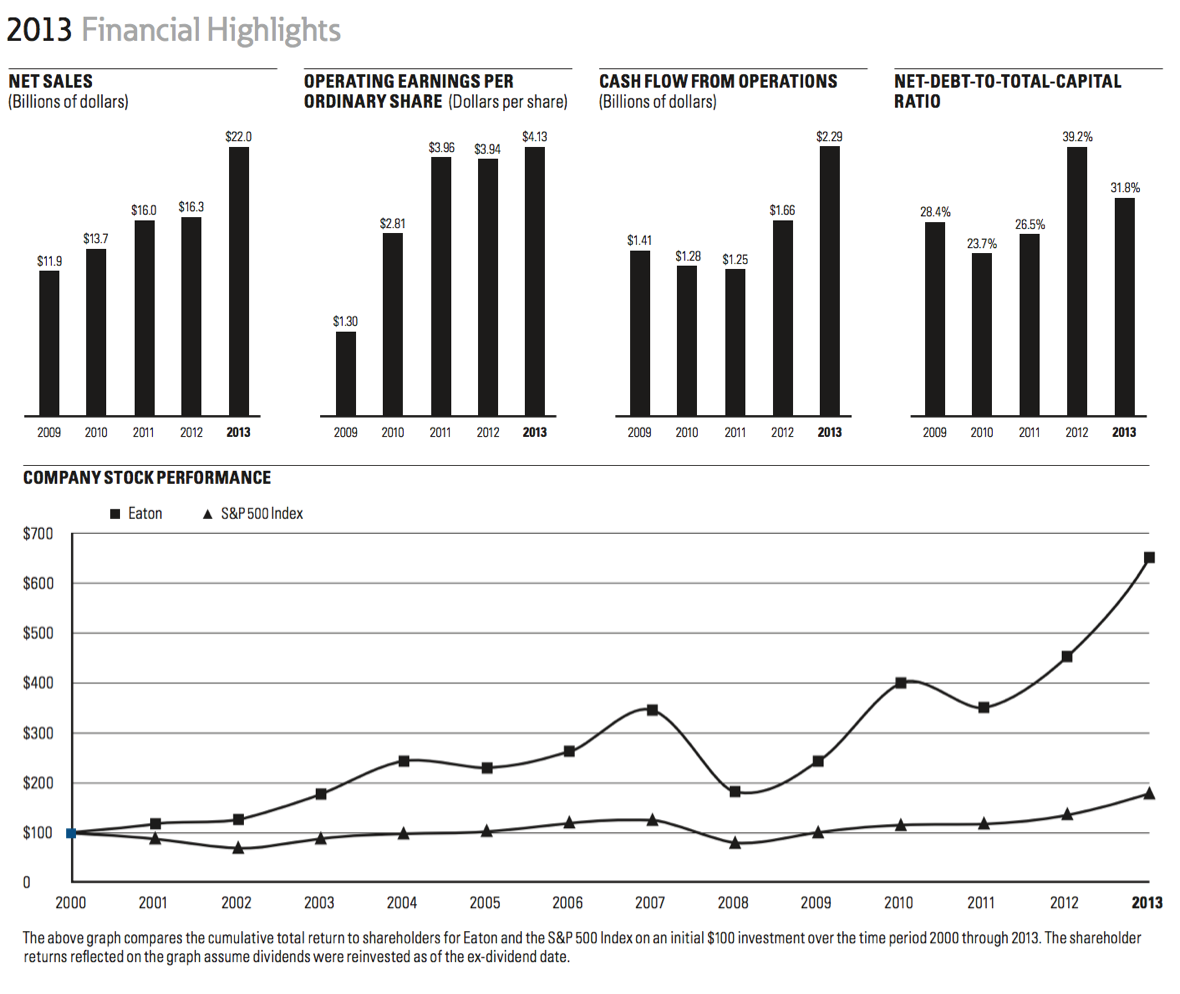 Source: "Eaton Corporation 2013 Annual Report"
---