The European Central Bank's plan to purchase asset-backed securities and covered bonds will turn it completely into a bail-out authority and Europe's bad bank, says Hans-Werner Sinn, President of the Munich-based prestigious Ifo Institute for Economic Research think tank.
Mr. Sinn said:
"The ECB will presumably buy junk paper and thus increase the burden on taxpayers should defaults occur, since taxpayers will have to make up for the drop in the distribution of ECB profits to the respective treasury departments."
According to the ECB's mandate, it is not allowed to buy such risky assets, Mr. Sinn points out. Such activities fall squarely within the realms of regional fiscal policy, which in this case is aimed at maintaining the financial systems of nations that are practically insolvent.
Mr. Sinn also points out that the ECB plans to buy securities in the economies which are under the EU's support programs.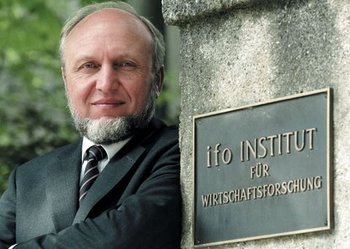 Hans-Werner Sinn fears that France could jeopardize the future of the euro. (Photo: Munich Economic Summit)
Greece and Cyprus, which rating agencies have classed as non-investment grades, will benefit from ECB's purchases.
The German Constitutional Court rules that the German government has to oppose operations that are beyond the powers (ultra vires) of EU institutions. If the German government fails to oppose them, any German national has the right to appeal before the Constitutional Court forcing it to act, Mr. Sinn noted.
Eurozone faces a decade of economic stagnation
In an interview with The Telegraph on Sunday, Mr. Sinn said the Eurozone's fate could well become ten years of economic stagnation and civil unrest that could eventually permanently damage the euro if France and some other member nations fail to implement urgently-needed reforms.
If policymakers continue misusing capital to fund the better living standards resulting from joining the euro, but fail to push through reforms, the Eurozone is doomed, he believes.
Mr. Sinn says:
"My prediction is not that the euro will fall apart, but that it leads to a stagnation and animosity even more than we see today among the people of Europe. You see this very strongly in southern Europe, where people face this mass unemployment, in France, where Marine le Pen in the polls has the strongest party and with Syriza in Greece which is presenting radical decisions and has the most support in the polls."
Ukrainian crisis will hurt Germany, but its neighbors more
Mr. Sinn says the Ukrainian crisis will undermine German growth, but the consequences for its neighbors will be much more severe, because they rely on Europe's largest economy.
More than forty percent of German businesses have commercial relations with eastern Europe, so the Russian crisis is bound to have a bad effect on Germany. Other Eurozone nations' main customer is Germany, so they will also be harmed.
Mr. Sinn believes that some southern European nations are at risk of a triple-dip recession.
There is a growing divide in the Eurozone, with the peripheral nations (which now includes France) telling Germany they are sick of being told to stick to austerity programs and implement painful reforms. A growing number of Germans are getting fed up with financing (bailing out) economies which they feel are victims of their own bad decisions and practices.
The Ifo Institute, together with ISTAT of Italy and INSEE of France, forecast just 0.2% (annual) GDP growth for the Eurozone for Q3 and Q4 2014.