Enbridge insists that its Line 9 pipeline through southern Ontario is well designed and has the proper shut-off valve configuration, minimizing the risk to reservoirs and waterways if a rupture occurs.
The National Energy Board made a decision to postpone the development of the pipeline as it is not convinced that the Calgary based company has met all the safety conditions set by the board.
The Line 9 pipeline is being developed to transport crude from Western Canada to refineries in Eastern Canada and potentially export it to more markets.
It was scheduled to begin in November, however a letter by the NEB said that the project will be put on pause until the shut-off valves issue is dealt with.
Enbridge told the NEB on October 23 that it has met and exceeded the standards and conditions necessary but has likely failed to properly explain its approach concerning shut-off valves.
In an eight-page letter Enbridge explained in detail its plan on determining the optimal locations to place the shut-off-valves, taking into consideration factors such as the elevation of the pipeline's route.
Guy Jarvis, Enbridge's president for liquids pipelines, said in a letter to the Calgary-based National Energy Board:
"It has become evident to us that key aspects of our valve placement methodology were not clearly conveyed,"
"Enbridge's conservative approach to risk management and valve placement is designed to ensure we not only meet, but exceed, regulatory standards,"
"Our IVP (Intelligent Valve Placement) methodology applies competent engineering judgment and sound engineering practices to reduce potential release volumes to the lowest level reasonably practical along the entire pipeline. In doing so, it helps protect the public and the environment in the unlikely event of a pipeline release."
According to a statement made by Enbridge, key details of the company's letter to the NEB include:
"Our Line 9 Intelligent Valve Placement (IVP) methodology protects all water crossings along the pipeline route. It also protects other high-consequence areas (HCAs) from potential impacts to people and the environment;
Our IVP methodology led to the addition of 17 remote-controlled valves along the Line 9 corridor, bringing the total to 74 valves (62 of them remote controlled), to further enhance Line 9's safety standards;
The IVP methodology optimizes valve locations along Line 9, using topography and pipeline elevation to naturally isolate potential release points – allowing one valve to protect multiple water crossings;
Our broader, multi-layered Risk Management program includes inherently safe design and construction practices; an emphasis on the prevention of releases; investment in leak detection technologies; control and mitigation measures; and preparedness and emergency response."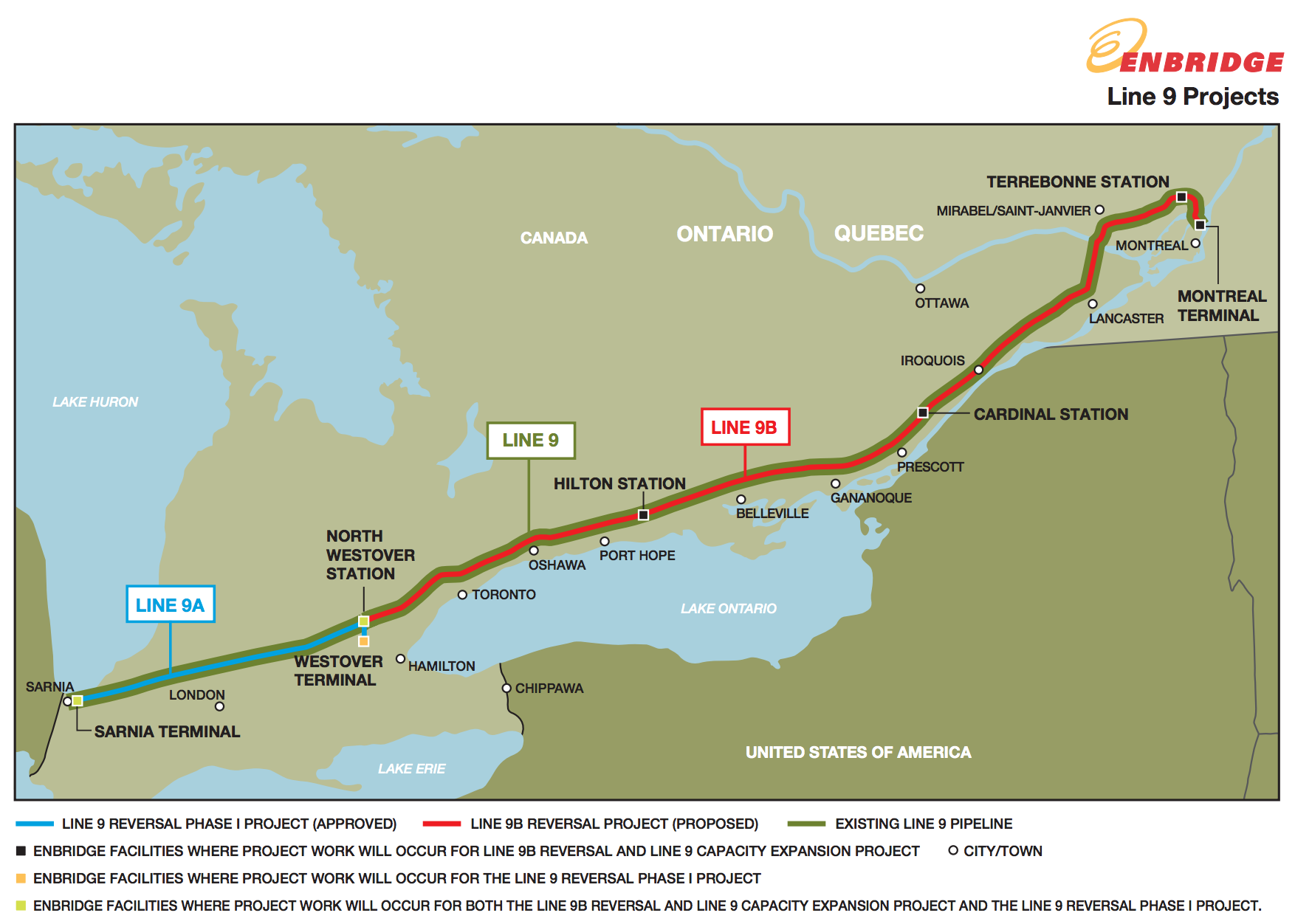 About Enbridge
As a transporter of energy, Enbridge operates, in Canada and the U.S., the world's longest crude oil and liquids transportation system. The company has interests in more than 1,800 megawatts of renewable and alternative energy generating capacity and is expanding its interests in wind and solar energy and geothermal.