Calgary-based Encana Corporation posted an 87% increase in operating earnings to $281 million ($0.38 per share) in the third quarter compared to the same quarter last year. Its third quarter cash flow, at $807 million ($1.09 per share) was 22% up year-over-year.
Net earnings attributable to common shareholders in the third quarter were $2.8 billion, or $3.70 per share.
The impressive figures were due to gains on asset sales as the company continues shifting away from lower-margin natural gas to the more profitable oil and gas liquid assets.
Encana, which made several deals this year as part of its strategy to focus on its core business, said it has already met the targets for 2017, i.e. it is nearly three years ahead of schedule.
Encana President & CEO, Doug Suttles, said:
"Our third quarter results highlight the tremendous momentum we have built executing our strategy and we are now a full two years ahead of the targets we originally set for 2017. The steps we have taken to transform our portfolio and drive cost efficiencies have delivered an over 50 percent increase in upstream operating cash flow against an eight percent decline in overall production, compared to the same period in 2013. This highlights our focus on delivering value versus volumes."
"Consistent with the strategy we announced one year ago, we have built a balanced and resilient portfolio that comprises high-quality oil, natural gas liquids and natural gas investment opportunities."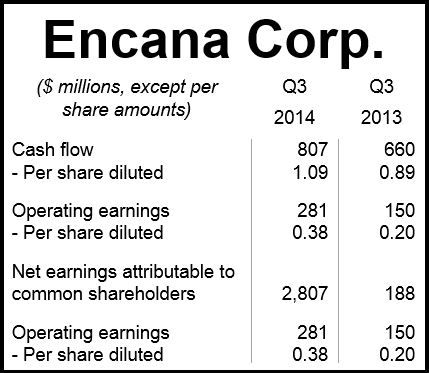 (Source: Encana Corp.)
In the third quarter, Encana announced the acquisition of Athlon Energy Inc., which will give it a leading position in the Permian Basin. When added to other key portfolio adjustments, the purchase puts Encana on track to achieving 75% of its operating cash flow from liquids production next year – "marking a significant strategic milestone two years ahead of plan."
Mr. Suttles said:
"The accelerated execution of our strategy has placed us in a position of strength. We're building sustainable success from the inside-out with a culture built on teamwork, agility and the drive to succeed. Our team continues to take the concrete steps needed to deliver on our growth targets and drive efficiencies into everything we do."
So far this year, Encana has unlocked about $8 billion in value through the disposition of lower-margin natural gas assets, and has invested the proceeds into higher-margin liquids opportunities.
The total netback of assets that were sold off was about $20 per barrel of oil equivalent (boe), compared to the expected netback for acquired assets of circa $55/boe. "This more liquids-weighted commodity mix, in combination with higher realized year-to-date prices and lower operating and administrative costs, resulted in a 79 percent increase in Encana's netbacks, excluding hedges, compared to the first nine months of 2013," the company informed.
In the third quarter, Encana hit another major milestone – its total liquids production exceeded 100,000 barrels per day. Oil production in the third quarter was 128% up compared to the same period last year and 82% higher than in Q2 this year.